Moscow police to tackle "ethnic crime"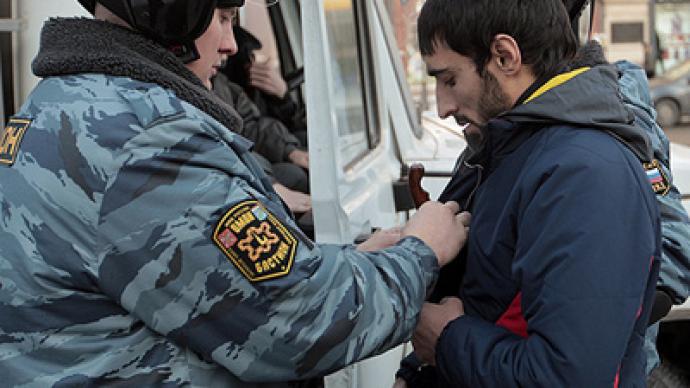 Moscow's law enforcement agency is mulling over setting up a new police department that would deal with offences committed by ethnic criminal groups, the capital's police chief Vladimir Kolokoltsev has said.
­"We are considering creating a special subdivision with the criminal investigation service to be more prompt in solving such crimes and to be more efficient in this sphere (ethnic gangs)," he said at a meeting with Moscow public representatives, reports Itar-Tass. Whenever relations between different nationalities are involved, crimes are more "cynical and impudent".

"It is rather difficult for police officers to comprehend processes underway in organized ethnic criminal groups" because of their closed character based on national peculiarities, Kolokoltsev added.


­Liberalization or tough control: choice to be made
­Yet another proposal that may soon be introduced is tougher registration rules for migrants. Now, by law, Russian citizens who move from their place of permanent residence and stay at another location for more than 90 days have to register with local migration services.

What might sound complicated for foreigners, is in fact a much simpler system than what it used to be. For instance, just recently – in November this year – the government simplified registration and allowed citizens to use the internet to submit information to the migration office instead of wasting time in queues. But the liberalization of rules has become an additional headache for police.

"After rather a strict system of registration in Moscow was abolished, we've got a lot of problems," Kolokoltsev said. "In fact, a citizen who arrives in the capital and stays for 90 days is simply out of the control of law enforcement agencies. Do we really know the purpose of his coming? We should see whether our liberal democratic values match the requirements and hopes of the city population."

The possibility of going back to tougher control over migration was voiced on Tuesday by Premier Vladimir Putin. He said that if ethnic clashes in Russia continue, authorities will have no choice but to change the migration legislation, at least in large cities like Moscow and St Petersburg.

The rise in violence and clashes between nationalists and ethnic minorities has been the subject of much debate this month. The most vivid example of national intolerance and unwillingness of some people to live in peace with migrants was a mass protest in Moscow on December 11 which descended into riots. Several thousand youngsters – mainly football fans – took to the capital's streets over the killing of Spartak Moscow fan, Egor Sviridov, in a brawl with migrants from the North Caucasus. At the memorial rally, some started chanting nationalist slogans, clashing with police and beating up people of non-Slavic appearance.

Now, after the horse has bolted, the government is thinking of closing the door. It is yet unclear though how registration can solve the problem. Disciplined citizens would apparently have to deal with more complications and paper work. But would new rules really make criminals rush to migration offices to let everyone know of their arrival?

Moscow police chief Kolokoltsev suggested that the public should take part in making a decision on the matter. The head of the Presidential Council for Human Rights, Mikhail Fedotov agreed that changing the rules requires serious analysis.

"Our council is indeed ready to help Kolokoltsev in his intention to change the situation with crime in the capital, for the better. I welcome the idea of public debates..," he told Interfax. It is necessary to consider all pros and cons to make the right decision.

Russia's human rights ombudsman Vladimir Lukin, however, believes that it is unlikely that new requirements would actually help to counter criminals. "Registration is not a panacea against organized crime," he told the agency.

According to Lukin, there are modern ways to put life in order while Kolokoltsev's initiative is reminiscent of Soviet era style. In addition, the idea contradicts Russia's willingness to introduce visa-free travel with the EU. "So, what we get is one would easily go to Paris. And here – once you have come you should start organizing all sorts of papers."


­Through persuasion to tolerance
Nationalistic sentiment in Russia did not appear overnight and the football fan murder was only an excuse for radicals to stir up public anger. Migrants boost the work force – providing mainly cheap labor – but the evidence suggests they also raise the crime rate. And it is not purely a Russian problem: many other countries are facing exactly the same challenges.

In Moscow alone, Kolokoltsev said, up to 70% of crimes are committed by migrants. In the last ten months, the number of rapes in Moscow has risen by 79%. "A rather large number of criminals come from former Soviet republics, in particular, [Central] Asian states," he noted.

At the same time, the Moscow police head has called on the media to refrain from speculation and not to draw any conclusions based on nationality alone. He also warned that it can be especially dangerous when it comes to relations between people of different religious beliefs. According to Kolokoltesv, Moscow should become a city tolerant to everyone.

The question is how to teach people tolerance and make them respect each other. It is obvious that locals want safety and are not happy when their traditions are not respected. A man's home is his castle, and when peace in that home is violated by a stranger, the reaction is normally twice as strong as when the same thing is done by a local.

Migrants, for their part, also want to feel safe and be sure that no one will attack them just because they look different or because of their nationality. The majority of them leave their homelands only because they want to work and earn money. However, some migrants do not want to accept the good old principle: when in Rome do as the Romans do. They shock citizens with practises such as sacrificing animals, resulting in the general attitude to national minorities being not exactly tolerant.

Among the possible solutions voiced by Putin and echoed by Kolokoltsev, is, for instance, diasporas working with the population and teaching people to respect each other, and follow the laws and customs of the place where they live.

What authorities and the majority of people are unanimous on is that violence should be excluded. It can never be a solution, but in a multi-national country like Russia clashes between different ethnic groups could be disasterous.
­Natalia Makarova, RT