Orange repeal: Kiev's 'Freedom' fail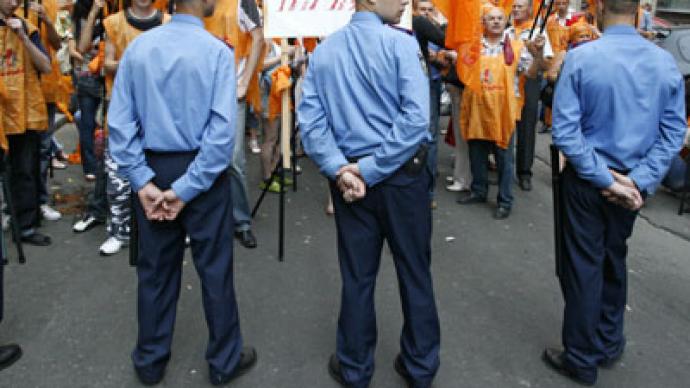 The Kiev District Administrative Court has banned the celebration of the seventh anniversary of Ukraine's Orange Revolution – Freedom Day - on the capital's Independence Square.
Earlier, the coalition of participants of the Orange Revolution filed an application to hold festivities. However, the court ruled to satisfy an appeal by Kiev's city administration and banned all mass events in the center of the capital on November 21-22.
Petro Mykhailenko, first deputy board chairman of the coalition told Ukrainian News that they are planning to appeal the decision. He said that the city administration asked for the ban after a joint meeting with Kiev police authorities and representatives of the public organizations who planned to stage events on the revolution anniversary day. The authorities explained that the Independence Square would be busy with preparations for erecting the New Year tree. Police also noted that Lithuanian President Dalia Grybauskaite is due to visit Kiev on November 22 and mass gatherings would not be appropriate for security reasons.
Freedom Day was established in 2005 by a decree of former President Viktor Yushchenko to commemorate the Orange Revolution.
Back in November 2004, thousands of protesters took to streets to protest the results of the run-off vote of the Ukrainian presidential election, which was claimed to be rigged in favor of Viktor Yanukovich. Following a month of protests, the vote results were annulled and Ukraine's Supreme Court ordered a new election to be held. The second run-off brought a victory for Yushchenko.
Now the country is ruled by his rival Yanukovich who won presidential vote in 2010.
Former Prime Minister Yulia Tymoshenko, one of the Orange Revolution's co-leaders, is serving her seven-year sentence. She was convicted of abusing her powers while negotiating a natural gas import contract in Russia in 2009. Last week, she asked international medical organizations to help examine and treat her deteriorating health conditions. She has complained of severe back pain.
The human rights commissioner for the country's parliament, theVerkhovna Rada, Nina Karpachova, said on Sunday that Tymoshenko is in a serious condition. The ombudsman visited the former PM in prison on Sunday, writes Kiev Post news website.
She told Channel 5 on Monday that on Sunday evening, without any warning, she came to the jail to visit the former prime minister.
"[Tymoshenko] could not get out of bed when talking to me. She needs to be examined and treated outside the detention center. I also think that it is absolutely impossible to conduct investigative actions in a prison cell, and this is the only case over the period of Ukraine's independence," Karpachova is quoted as saying.