4 parties to take Duma seats - poll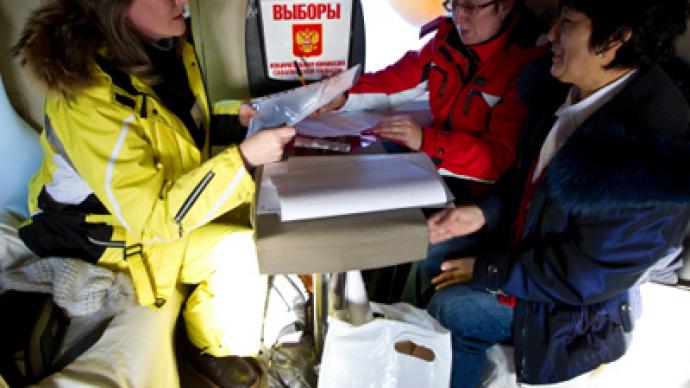 With less than a week left until the parliamentary elections, Monday is the last day when the Russian media is allowed to publish poll results indicating voters' preferences.
One such poll distributed by the Interfax news agency says United Russia is likely to retain its parliamentary majority, but will lose its constitutional majority status – the two-thirds of parliamentary seats required to make changes to Russia's constitution (United Russia received it after the 2007 elections when it got 64.3% percent of vote).
The polls were carried out by two leading Russian agencies – the All-Russian Public Opinion Center and the Public Opinion Foundation. According to them, United Russia is set to get from 55 to 58 per cent of votes, the Communist Party of the Russian Federation will get from 16 to 19 per cent, the Liberal Democratic Party will get from 11 to 14 per cent and Fair Russia from 6.5 to 9.5 per cent. The researchers said that about 15 per cent of voters had not yet made up their minds and thus the results of voting might differ markedly from the forecast.
Three more parties registered to take part in the elections – the Yabloko Party, Just Cause and the Patriots of Russia – scored less than the 5 per cent minimum required to gain parliamentary seats.
The polls also predict that turnout at the elections will be between 58 and 60 per cent. Only about 1.7 per cent of citizens said they were ready to support an initiative by the fringe opposition and spoil their ballots as a form of protest.
In a separate poll, the All-Russian Public Opinion Center found out that the number of Russians who were ready to personally take part in protests fell from 27 to just 22 per cent in one week. Correspondingly, the number of those who thought that protests were hardly possible at all grew from 66 to 71 per cent.