Russians expect long-term economic crisis but don't fear its consequences – poll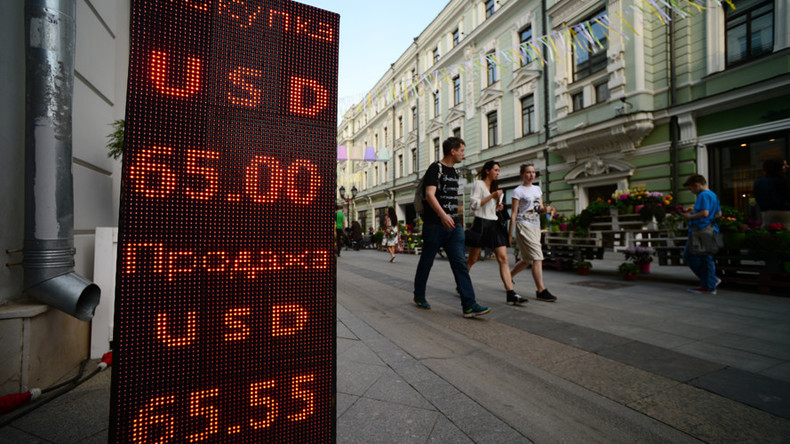 Most Russians acknowledge that the country is facing a potentially lengthy economic crisis, but at the same time don't expect to suffer any personal consequences such as redundancy or delays in salary payment in the near future as a result.
The latest poll conducted by the independent public opinion agency Levada Center in mid-September showed that 82 percent of Russians currently agree with the statement that their country's economy is in decline or stagnation. When a similar poll was held in 2014 only 61 percent of respondents shared this opinion.
A quarter of Russians polled said they expected the current crisis to be long-term, compared to just 16 percent two years back. Around a fifth – 21 percent – said they expected it to end no sooner than in two years.
READ MORE: 80% of Russians would not join protests – poll shows
At the same time, those questioned were mostly optimistic about their own perspectives amid a stagnating economy. Just under half – 49 percent – were confident that they and their family members would not experience delays in receiving wages, while 24 percent admitted that such a scenario was possible and 17 percent confessed that they had already experienced this.
Forty-four percent of respondents said they did not expect to lose their jobs in connection with the ongoing crisis. Just under a third – 28 percent – said that this was possible and 14 percent answered that they knew about ongoing job cuts from personal experience.
Deputy director of the Levada Center Aleksey Grazhdankin explained the results of the poll by the fact that people compare the current economic difficulties with the much worse crisis of 1998. "Only a sharp fall in living standards can really affect public opinion. People tend to adapt to smaller deviations."
Researcher Leontiy Byzov from the Russian Academy of Sciences' Sociology institute said in comments with Kommersant daily that the picture revealed by the poll could be explained by the fact that the average Russian thought that the economic crisis was imposed by hostile forces from abroad and therefore could not be really deep or serious.
"Russians consider the current problems to be provoked by foreign-based 'enemies of the people.' They do not expect any cuts in their wages because they fully trust the authorities not to allow this," he said.
Similar research conducted by the state-run agency VTSION in January this year showed that about 62 percent of Russians saw the economic situation as normal, but 52 percent expect the crisis to deepen in the future.
READ MORE: Citizens see situation in Russia as 'normal' but expect crisis to deepen, poll shows

In September Levada pollsters released the results of research that showed that over 80 percent of Russians are currently unwilling to participate in mass protests over political or economic issues. Only 18 percent allowed for the very possibility of protests caused by decreases in living standards, and only 6 percent said that they would consider taking part in such protests if they happened.