Opposition figure Navalny spared jail as Moscow court rejects request to cancel suspended sentence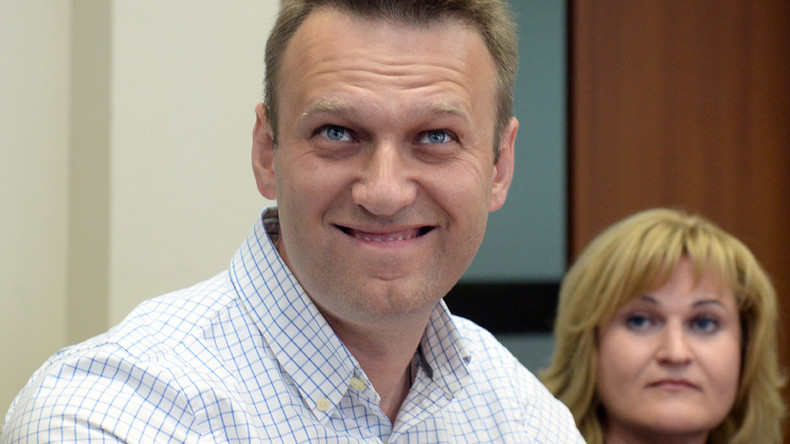 Moscow City Court has refused a request to end the probation period for opposition activist Aleksey Navalny and make him serve the rest of his three-and-a-half-year sentence in prison.
The appeal asking to put Navalny in prison was formally filed by prosecutors but originated from the Justice Ministry's Department for Execution of Punishment.
The agency claimed in its original complaint that Navalny was not observing the rules of probation – on several occasions he has not registered at his local police station in due time and has not presented any papers that would explain this.
Navalny insisted that he had valid reasons for missing the registration, and the city court accepted this and ruled in his favor.
READ MORE: Moscow court upholds probation sentence for opposition figure Navalny

Navalny was given a three-and-a-half-year suspended sentence in late 2014 after the court convicted him and his brother Oleg of defrauding the international cosmetics company Yves Rocher of over $500,000 through an embezzlement scheme. The brothers had set up a private company to service an Yves Rocher transport contract, but the firm only accumulated profits while all contracts were executed by the state corporation Russian Post, where Oleg Navalny worked as a senior manager. Oleg Navalny received a prison sentence of three-and-a-half years, which he is now serving.
Both brothers have never pleaded guilty and continue to insist that their scheme was an ordinary logistics business. Aleksey Navalny also maintains that the criminal case against him was launched by Russian government officials as punishment for his anti-corruption activities.
However, this was not Aleksey Navalny's only criminal sentence – in 2013 he was found guilty of organizing a business scheme in Kirov Region, by means of which he and his accomplices made profits while causing multi-million-ruble losses to a state-owned timber company. He received a five-year prison sentence, which was suspended with a fine of 500,000 rubles (about $15,000 at 2013 rates).
Last month, Russian press reported that Navalny had asked the Supreme Court to cancel his 2013 conviction of embezzlement so as to remove the legislative ban that prevents him from participating in the 2018 presidential race. The Supreme Court has not yet commented on these reports.
READ MORE: Navalny to seek participation in 2018 presidential polls – report