No Duma shake-up in September elections, NGO predicts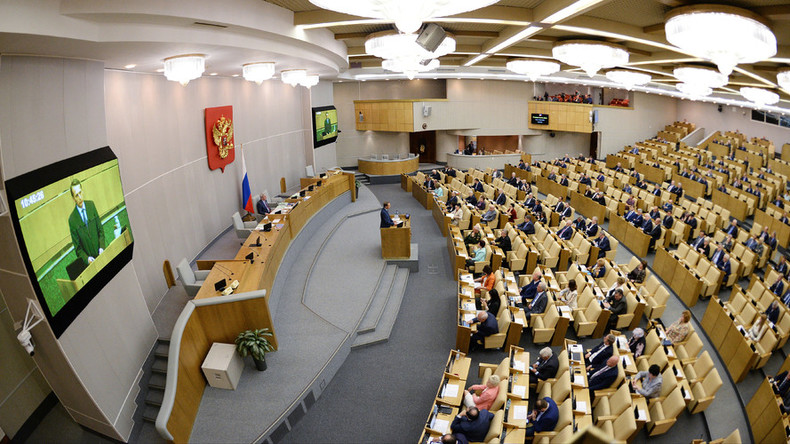 A major Russian NGO specializing in political science predicts that the four political parties currently represented in the lower house will get 80 percent of seats in the forthcoming parliamentary polls.
"The four current parliamentary parties reflect the political preferences of about 80 percent of the Russian population. Other parties that participate in the 2016 [Duma election] campaign can count on the remaining 20 percent, give or take," the Foundation for Civil Society Development wrote in a report dedicated to the "pre-poll stage" of this year's parliamentary elections.
READ MORE: Putin tops Russians' trust ratings with 80% support
It noted that judging from the experience of previous Russian parliamentary campaigns, voters who have not yet determined their political allegiance would choose not from among the newcomers but from the leading parties – United Russia, the Communist Party, the Liberal Democratic Party (LDPR), and Fair Russia.
United Russia is leading in the ratings for parties that are running for the Duma with elections lists. Analysts also expect that at least 70 percent of the 225 seats reserved for winners of the polls in independent constituencies will be taken by United Russia members.
"For United Russia the electoral campaign of 2016 manifests the struggle for confirmation of their leadership in the national party system. If this party wins the elections, it would cement its status of a key parliamentary force and a stabilizing element of the political system," the Foundation for Civil Society Development concluded.
Analysts also believe that the Communist Party of the Russian Federation will face stiff competition from the nationalist LDPR because the latter is "actively using the fairwater of [President] Vladimir Putin's foreign policy" and appeal to voters' national pride. However, the report reads that the candidates representing the LDPR in independent constituencies are generally weaker than the Communists.
Fair Russia has lost much of the popularity it demonstrated in the 2011 elections and will struggle to breach the 5 percent threshold required for a parliamentary presence, the report reads.
Russia is holding nationwide parliamentary elections on September 18. The polls will be the first run-out for a new system that has significantly relaxed rules of political party registration – half of all MPs will be running from independent constituencies. Fourteen of Russia's 77 political parties have registered a list of candidates for the race.
According to a poll conducted by the independent public opinion research center Levada, turnout in the elections could reach 48 percent.
READ MORE: Almost half of all Russians plan to vote at forthcoming Duma polls