17 Russian parties submit bids for September parliamentary polls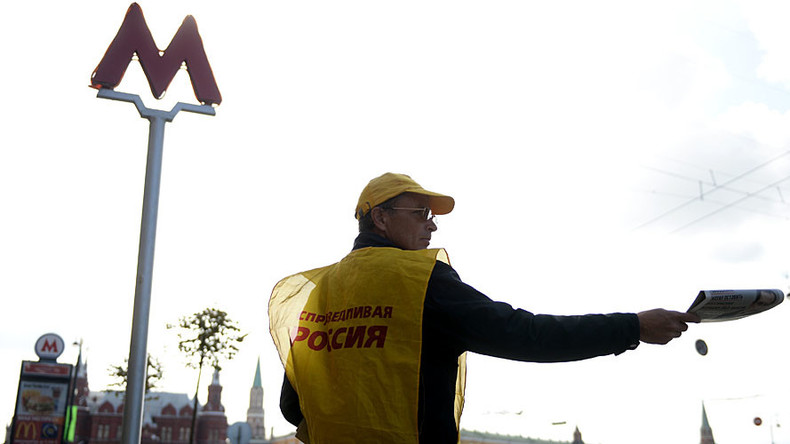 Russia's Central Elections Commission has wrapped up the process of receiving party applications for the September 18 State Duma elections. Seventeen parties have submitted lists of candidates, but the validity of these is yet to be checked.
The term of submission for applications expired in all of Russia's constituencies at 6pm local time on Wednesday, commission member Evgeny Shevchenko told reporters, adding that seventeen parties had submitted the necessary documents in time.
Verification of the applications will be complete by August 14, Shevchenko said.
READ MORE: 24 parties to take part in September parliamentary polls – official
The September polls will be the first time Russia uses a system in which half of the seats for the lower house will be filled by independent candidates, who can still represent a party or political movement. Previously, all members were chosen from candidates submitted by political parties in their elections lists.
The chair of the Central Elections Commission, Ella Pamfilova, earlier said that a total of 8,071 people had submitted their candidacies for the forthcoming vote. As the number of seats in the Russian lower house is 450, this makes the competition in the polls just under 18 people for one place.
Apart from the State Duma elections, a number of Russian regions will be holding polls for local legislatures and municipal bodies, as well as elections of heads of cities and regions.
Pamfilova told reporters that 49 Russian political parties will participate in this broader campaign, out of the 74 parties that officially have the right to do so. This will involve 67,000 people who are running for local self-governing bodies, 24,500 taking part in regional legislative polls, and 41 registered as candidates to become the heads of nine Russian regions.
In mid-July, Russian independent pollster the Levada Center released the results of research that showed 48 percent of Russian citizens intend to cast a vote in the forthcoming polls. Twenty-eight percent were equally determined not to attend the election, saying they either did not trust any of the candidates or simply considered elections "useless," or had grown tired of politics, which they see as an endless struggle in the upper echelons of power.
READ MORE: US election monitors to get personal invitation to Russian Duma polls
At the same time, 40 percent of respondents expect the newly-elected State Duma to represent the interests of society, with 39 percent saying they hold the opposite opinion. Also, 41 percent of those polled said the existing political scene offered them no real choice, while 38 percent disagreed with that position.