Authorities fine Russian schools for using cellular signal jammers at exams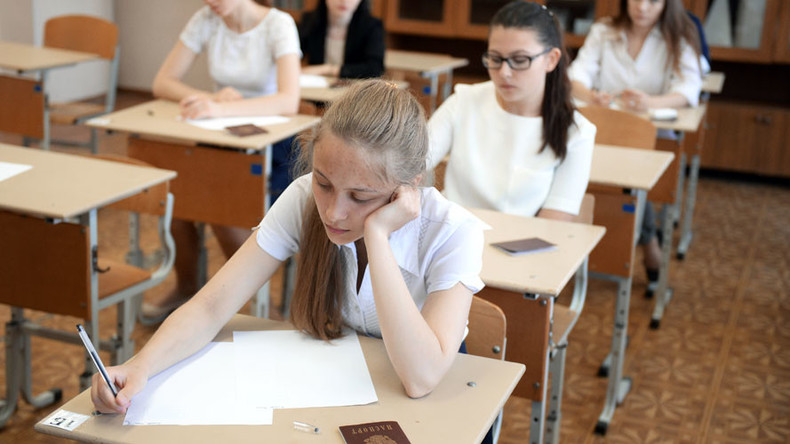 A Russian media and internet watchdog has fined several schools for obstructing radio communications, after their administrations installed signal jammers in order to prevent pupils from using cellular phones and other devices during exams.
Russian business daily Kommersant reported the incidents on Tuesday, naming one principal and stating that the sum of the fine imposed by Roscomnadzor in that case was 5,000 rubles (US$77).
The complexity of the situation lies in the fact that another state agency, Rosobrnadzor, which oversees education, earlier approved the use of signal jammers in schools. At the same time, Rosobrnadzor has not yet issued any recommendations concerning the use of these devices, and school administrations have to install them at their own risk.
READ MORE: E-bots to enforce new Russian ban on obscenities
The roots of the conflict date back to 2011, when Russian schoolchildren for the first time discovered that internet-connected smartphones and tablets allowed them to ask for hints and advice concerning questions in tests.
The following year, Rosobrnadzor imposed a nationwide ban on internet-connected devices during exams. It asked schools to enforce it by putting metal detectors at the entrances of exam rooms and, if possible, installing signal jammers at the schools.
The agency acknowledged that the use of these devices had not been agreed with media control bodies, but suggested that the conflict would be settled in regional administrations.
However, this apparently never happened in some regions of Russia. The director of a village school in Central Russia's Tver region, Sergey Pogodin, told reporters that local inspectors had promised to fine him personally for purchasing and installing a jammer that had not been registered, stating that the source of the radio signal and could potentially obstruct lawful communications. Pogodin said that several principals in his region had already been forced to pay such fines.
The head of the Tver Gymnasium School, Tatyana Slesareva, confirmed this information, stating that she had to personally pay a $77 fine for using a jammer.
Neither Roscomnadzor nor the Education Ministry have so far issued any comments on the situation.
The unified state exam has sparked widespread criticism from traditional academics and ordinary Russians who are accustomed to the older system. Leftists and nationalists routinely propose the cancellation of the new system in their political programs.
In January, the Liberal Democratic party drafted a bill seeking to scrap the unified state exam and reintroduce separate graduation tests in schools and entry exams at universities and other institutions.
READ MORE: Nationalists blast education reform as failure, urge scrapping of unified state exam

In December 2015, the head of the Russian Communist Party, Gennadiy Zyuganov, blasted the unified exam as a system that was "preparing mediocre gray personalities with fragmented thinking, incapable of [grasping] global problems and [forming] minds capable of answering the challenges of the modern era."
However, sponsors of the new system said it needed more time to prove its worth and refused to make any reversals.