Life insurance benefit for Russian lawmakers raised 2.5-fold – report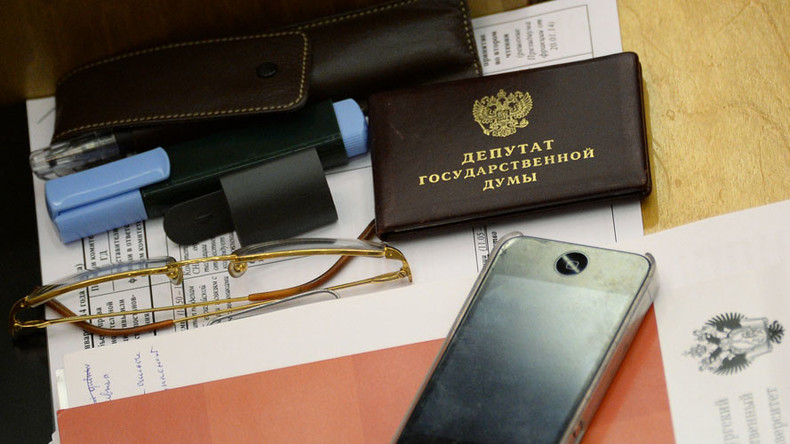 Benefit payments in state-sponsored life insurance for Russian State Duma MPs have been increased 2.5 times, reaching almost 1 million rubles (US$15,800) for an ordinary MP, a popular daily reported, citing the official government tender website.
Mass circulation newspaper Izvestia reported on Thursday that the state tender on life insurance for State Duma MPs had been won by the Russian company Verna. The overall sum of the contract is about 3.57 million rubles per year (about $56,000) and the maximum benefit payments amount to 978,156 rubles for an ordinary MP and 6,844,668 rubles ($107,000) for the speaker. The total number of lawmakers in the lower house of the Russian parliament is 450.
Insurance covers all damage to life and health inflicted by accidents and illnesses throughout 2017, but is only valid on the territory of the Russian Federation. The program does not distinguish between MPs' differing ages or health condition.
Izvestia reports that the maximum beneficial payment in 2017 contract increased about 2.5-fold compared to 2016 – the lawmakers from the current convocation are only entitled to a maximum payment of 386,000 rubles.
READ MORE: Russian MPs support cut in own salaries as anti-crisis measure
In early 2015, State Duma Speaker Sergey Naryshkin proposed that all MPs cut their 420,000-rubles-per-month salaries by 10 percent as part of the budget optimization announced by the government. The house voiced universal approval of the proposal. At current rate, the reduced salary of 378,000 rubles amounts to about $5,900.
The law forbids Russian MPs from receiving any other income while holding their parliamentary posts, with the exception of artistic or educational fees.