Liberals Yabloko announce 'alternative patriotism' program for State Duma polls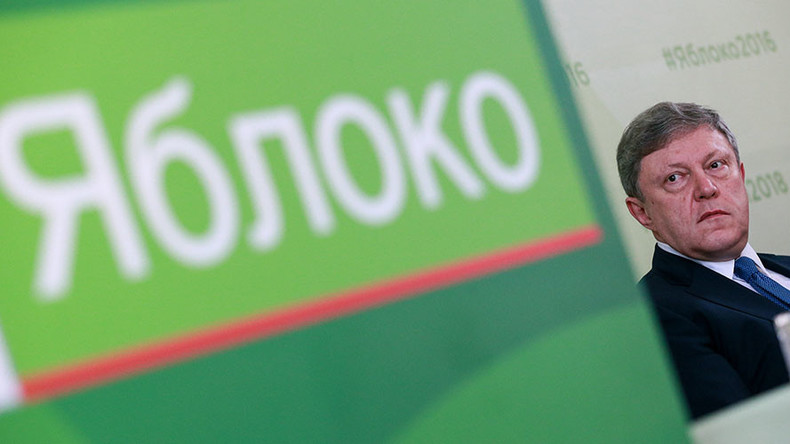 Veteran Russian liberal party Yabloko has announced its candidates and program for the parliamentary elections, prioritizing the 'demilitarization' of Russia along with 'alternative patriotism' and concessions to the EU in exchange for visa-free travel.
"Someone who lives in Russia remains the pinnacle of our proposals," Grigory Yavlinsky, Yabloko founder and one of the party's leaders, told reporters as he presented the election platform.
According to Yavlinsky, the key elements of the program were the further development of democracy and anti-corruption laws that would allow Russia to join the "European community" as soon as possible.
READ MORE: Veteran Russian liberal vows to beat Putin in 2018 presidential race
Other factors that would supposedly benefit this goal are the demilitarization of the country, offering society "an alternative concept of patriotism," and changing the way the state interacts with mass media. The document elaborates that alternative patriotism should be based on security, prosperity and respect for its citizens.
One of the Yabloko candidates for the elections, rights activist Lev Schlosberg, said the party also wants to press for an international conference on Crimea, the lifting of the Russian countersanctions on Western countries, and the initiation of a dialogue on a visa-free regime with the European Union.
"We don't want today's graduates to go to war, our country needs them alive. We are going to stop the war – the war inside Russia and the war against the whole world," Kommersant daily quoted Schlosberg as saying.
The party chose not to draw up a separate election list for Crimea and Sevastopol, but included these federal regions in a joint constituency with South Russia Krasnodar Region.
Yabloko's controversial proposals almost immediately drew criticism from rival Russian politicians. The head of the group 'Sevastopol-Crimea-Russia People's Front', Valery Podyachy, even asked Russia's Federal Security Service (FSB) to check the document for possible violation of the law that forbids public calls for destruction of the country's territorial integrity.
"The question of the Russian Federation's territorial integrity is not a discussion issue, from the legal point of view it cannot be questioned. When investigators invite the participants of this party congress for questioning they will get their opportunity to discuss things," Podyachy said in comments with TASS.
Deputy governor of Sevastopol, Aleksandr Reshetnikov, also said that in his view law enforcers should check Yabloko's program for possible calls to break up Russia's territorial integrity. Deputy Prime Minister of Crimea Ruslan Balbek suggested that Yabloko apologize to all Russians for doubting their country's unity.
Yabloko is one of Russia's oldest political parties to have always had a liberal and pacifist agenda. Despite losing many of its supporters and failing to claim any parliamentary seats for many years, the party has rejected proposals to cooperate with other groups. In particular, in February this year Yabloko said it will not participate in the Open Elections project launched and sponsored by Mikhail Khodorkovsky, or any of the former oligarch's other projects.
Yabloko emphasized that the party considered Khodorkovsky's political views unacceptable, especially with respect to the 'oligarchic' system of a merger between big business and state power. However, the liberals also dismissed Khodorkovsky's recent attempts to discuss revolution and a leftist turn in Russia as unacceptable.
READ MORE: Anti-Maidan activists blast Yabloko party over US-funded protests
Parliamentary elections in Russia are scheduled for September 18 this year. The polls will be conducted under new rules – half of the 450 lower house MPs will be running on party lists and the other half from single-mandate independent constituencies, instead of the previous system in which all deputies were elected on party tickets.
In addition, the election threshold for parties has been lowered from 7 to 5 percent and party registration rules have been simplified, which has resulted in a sharp increase in political competition.