Former Russian PM Kasyanov dismisses reports of split in party, sets sights on Duma seats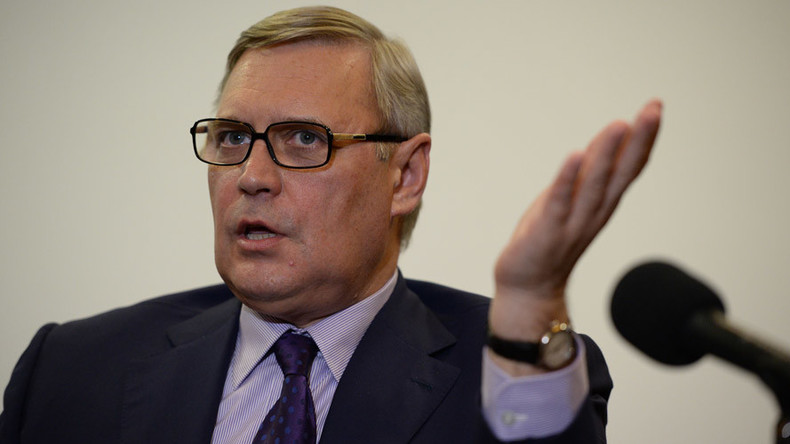 The leader of the PARNAS opposition party has dismissed reports of a crisis in the group and has held up the results of recent polls to show that, together with veterans Yabloko, PARNAS has a chance of getting into the lower house in September's elections.
"My personal estimation is that there is no crisis whatsoever," Mikhail Kasyanov told reporters when asked him to comment on recent statements by Russian opposition figure Aleksey Navalny and his allies. In late April, Navalny and his unregistered Party of Progress announced they were quitting the coalition with Kasyanov's Party of People's Freedom (PARNAS) because of disagreements over finances.
READ MORE: Former PM Kasyanov becomes only leader of PARNAS party, voices presidential plans

"It is just that Navalny has left and is not participating in the coalition, everyone else is still participating. Everyone except five people who have left and also [the leaders of the Democratic Choice movement Vladimir] Milov. The coalition is working without Navalny and Milov. The elections lists are almost complete now," Kasyanov said.
Kasyanov also announced that he considered PARNAS's chances at the September parliamentary elections to be relatively high, mostly due to the fact that sociologists predict low turnout – which may favor minor parties with a small number of very active supporters.
"Of course our chances are higher than 5 percent, we are aiming at these objectives. [In] April sociological researches show that people know very little about our party yet, but also a very small number of people are ready to vote," Interfax quoted the politician as saying.
He explained that according to research conducted by the TNS agency, PARNAS's electoral rating was higher than that of long-established libertarian party Yabloko, and Kasyanov's personal rating was at 7 percent. However, the PARNAS leader acknowledged that transforming this personal rating into votes for the party was not an easy task.
READ MORE: Activists egg opposition figure Kasyanov during central Russia campaign
Kasyanov chaired the Russian government from 2000 until 2004, when he was dismissed by President Vladimir Putin along with the rest of the cabinet. When Putin announced the decision, he said he considered the work of the government satisfactory, but the reshuffle was necessary to emphasize the newly-chosen course of the independent development of the nation.
Soon after his dismissal, several MPs accused Kasyanov of corruption, in particular of illegally acquiring a state-owned country home. The case made it to court and eventually Kasyanov was forced to return the property.
In 2008 the ex-PM attempted to run for the Russian presidency but the Central Elections Commission rejected his application on the grounds that many of the supporters' signatures he had collected had been forged or collected improperly.
In early 2015 Kasyanov announced plans to ask the US Congress to put several Russian journalists on the sanctions list, alleging that they had "created an atmosphere of hatred" that resulted in the killing of his close ally Boris Nemtsov. In reply his political opponents – the "Anti-Maidan Movement" created to oppose attempts to change state power in Russia in bypass of standard democratic procedures – urged him to give up his Russian citizenship and move to the US so that he can better serve its interests.
READ MORE: 'Renounce Russian citizenship,' activists tell pro-US opposition figure