Duma votes to strip fugitive lawmaker Ponomaryov of parliamentary seat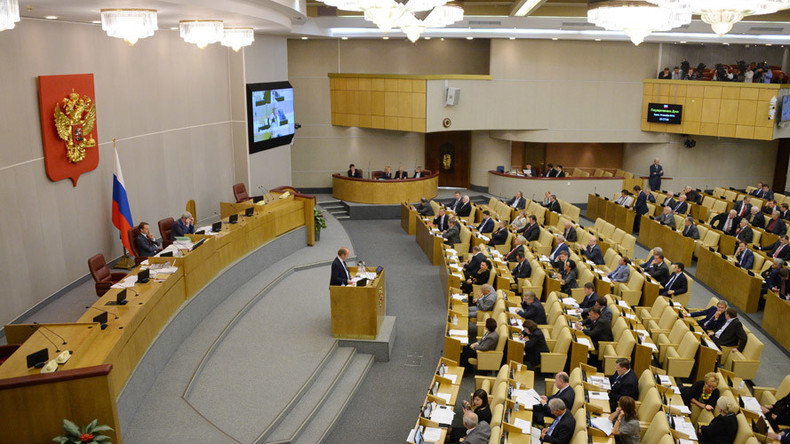 Russian Lower House MPs have voted to oust their colleague Ilya Ponomaryov for shirking. Ponomaryov hasn't participated in any parliamentary work since 2014, when he fled Russia to the US after facing corruption charges.
The decision to deprive the lawmaker of his mandate was passed by a 413-3 vote with no abstentions on Friday. The motion was supported by the parliamentary majority party, United Russia, the center-left opposition Fair Russia (on whose ticket Ponomaryov got to the Lower House in 2011), the Liberal Democrats and even Communist Party members. Their leader, Gennady Zyuganov, earlier promised that his party would abstain from voting, as they were against both Ponomaryov's parliamentary membership and the law that was used to oust him.
READ MORE: State Duma votes to strip opposition MP Ponomaryov of immunity over suspected graft

The only person who attempted to disrupt the procedure was Dmitry Gudkov, an MP who also got to the Lower House on a Fair Russia ticket. However, he parted ways with his comrades a long time ago over participation in street protests. Gudkov pointed out that of 450 State Duma deputies only 123 were present at the session and suggested a recount of both the lawmakers in the Duma hall. He also said the documents that allowed them to represent their comrades in voting should be reassessed. "Discussing ousting a Duma deputy for missing sessions at a session where just 123 of 450 deputies are present is akin to some farce," RIA Novosti quoted Gudkov as saying. The State Duma turned his proposal down.
Earlier this week, the State Duma ethics commission ruled that Ponomaryov should be ousted from parliament. Before that, the center left Fair Russia party voted to exclude Ponomaryov from their ranks for skipping parliamentary sessions. Fair Russia also initiated the legislative motion that allowed the man to be deprived of his seat. In July 2015, MPs Sergey Mironov and Mikhail Yemelyanov drafted a bill allowing for the expulsion of MPs who systematically fail to appear at sessions or fail to perform their other duties properly.
READ MORE: Duma committee approves bill on ousting MPs for missing sessions
Before the bill was signed into law in early May, no Russian act legislated for an elected parliamentarian who does their job poorly or stops doing it altogether. Their powers could only be terminated after a court conviction in a criminal offense, for running a business while simultaneously occupying a parliamentary seat, for receiving citizenship of a foreign country, or in the case of the State Duma being dissolved.
In April 2015, the State Duma voted to strip Ponomaryov of parliamentary immunity over suspected graft and misuse of state funds at the request of the Prosecutor General's Office. Ponomaryov was charged in absentia with complicity in the 2013 scandal at the Skolkovo Foundation, the state-sponsored center for innovation and technology.
Russian investigators discovered that Skolkovo Vice-President Aleksey Beltyukov had paid Ponomaryov about $750,000 for 10 lectures and one research paper. The MP received the fees, but either failed to deliver the promised work completely or executed it very poorly. He pleaded not guilty, saying the fees were fair and proportionate to the amount of work done.
READ MORE: Skolkovo vice president suspended over graft case
The probe and subsequent court hearings proved these allegations to be true. Beltyukov was suspended and a criminal investigation into his case is ongoing. Ponomaryov was not initially prosecuted because of his parliamentary immunity, but the court ordered him to return the money. However, after immunity was lifted law enforcers re-opened the case, charging the politician with complicity in the misuse of funds. In July 2015, a Moscow court ordered Ponomaryov's arrest and he was put on an international wanted list.
Ponomaryov fled Russia in July 2014, soon after his involvement in the Skolkovo schemes was made public, saying that bailiffs could ban his exit from the country over unpaid debt. Since then he has been living in the United States and has repeatedly told reporters that he has no intention of returning to Russia, as that would be tantamount to voluntarily going to prison.