Govt wants to make Russians inform authorities about marriages abroad – report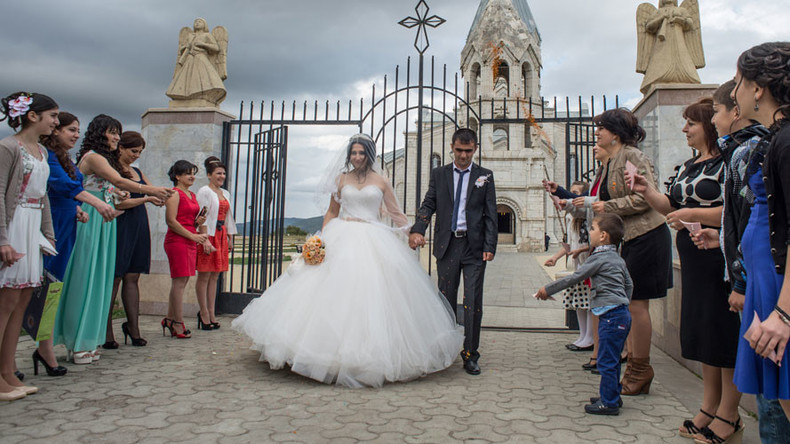 The Finance Ministry has prepared a bill ordering Russian citizens to report all changes of civil status, such as marriage or childbirth, made via foreign registry offices, RBC reports citing unnamed sources in the government legislative commission.
The sources also said that their commission had already approved the proposal for parliamentary readings.
In its current form the draft introduces amendments to the earlier prepared government bill on managing the citizens' contributions to the state pension fund. It orders all Russian citizens to inform either the civil registry offices in their official residence place in Russia or the Russian consular services in the country that they visit about all changes in their civil status.
READ MORE: Lower House gives final approval to 'foreign agents' bill
The bill also reads that all such reports will be protected by the Russian law on personal data and that they will be available only to several state agencies – the Pension Fund, the State Medical Insurance Fund, the Federal Tax Service, social security services, regional administrations and regional education ministries.
Russian courts' law enforcement bodies will also receive access to this information, but only on request.
The authors of the document have explained that its necessity had arisen from the fact that different countries do not automatically exchange the information about the changes in their citizens' civil status.

Representatives of the Russian Federal Tax Service denied the allegation that the move could be caused by the government's intent to increase the tax burden, saying that the only reason behind the bill was the desire to quickly put together the unified register.
In 2014, Russia introduced the law obliging all of its citizens to report their other citizenships if they have any. Before that the Russian parliament passed into law the ban on any liquid foreign assets for state officials and heads of major state corporations.
READ MORE: MPs suggest new restrictions for Russians with foreign citizenship