Medvedev urges greater effort to secure Russia's 2nd place on international arms market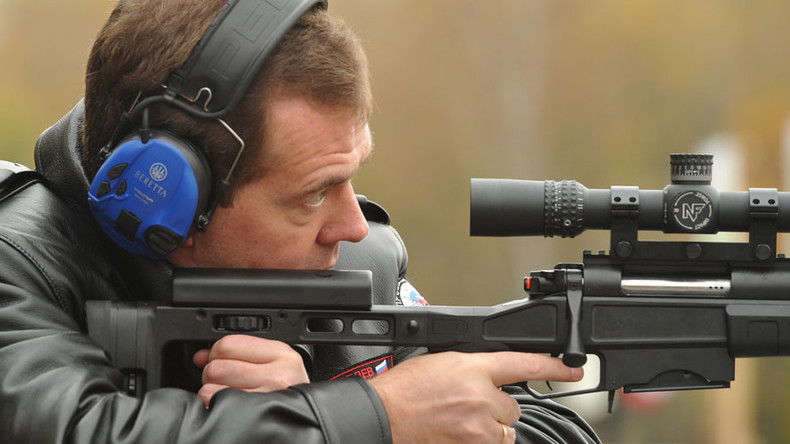 Prime Minister Dmitry Medvedev says Russia ranks second in the world by volume of arms exports and has told senior industry officials it is important to maintain this position through timely modernization.
"We need modern weapons industry that would satisfy the demands of our own military through fulfilling the state order for weapons. Today we are re-equipping all our Army and Navy with the newest types of arms," Medvedev told the government commission for the defense sector.
Medvedev also told officials it is necessary to keep Russia's place as the world's second-largest arms exporter and the only way to do this was by keeping up with the most modern standards of innovation.
READ MORE: No 'iron curtain' for Russian arms industry – Rogozin
According to RIA Novosti, the deputy PM in charge of the defense industry, Dmitry Rogozin, told the commission that the Russian government would allocate over 1 trillion rubles (over $15 billion) between 2016 and 2020 for the modernization of the arms sector. This included the sub-program aimed to replace the defense products that had been imported from Ukraine and EU countries, the sub-program for research and development and a sub-program of research into strategic materials.
In August last year, Rogozin said in a parliament speech that at that time Russia had US$49 billion of export orders on defense products, retaining one of the leading places in the global arms trade. He reported that in 2014 Russian arms makers exported their goods to 32 countries. In 2013, the revenues from such contracts amounted to $15.74 billion and it remained on the same level in 2014.
On May 25 this year, the Russian government approved the state program on development of the defense industry stipulating that by 202 the volume of weapons production in the country must grow 1.8-fold compared to 2014.
In August 2015, Dmitry Medvedev announced the creation of a dedicated commission overseeing import replacement in civilian and defense sectors and said that he intended to personally chair the new body. The PM also said that the commission would be comprised of two sub-commissions – one for civilian industry and one for the defense sector.
READ MORE: PM Medvedev to personally head future govt commission on import replacement
Russia intensified its work on import replacements in its economy over a year ago after the government coup in Kiev jeopardized the military-industrial ties between Ukraine and Russia that dated back to the times of the Soviet Union.
In July 2015, Rogozin reported first progress in this direction, promising the State Duma that by 2018, the Russian defense industry will completely overcome its dependence on Ukrainian-made components as well as from a large number of producers from EU and NATO countries.