Public chamber activists seek blanket fingerprinting of US & EU citizens entering Russia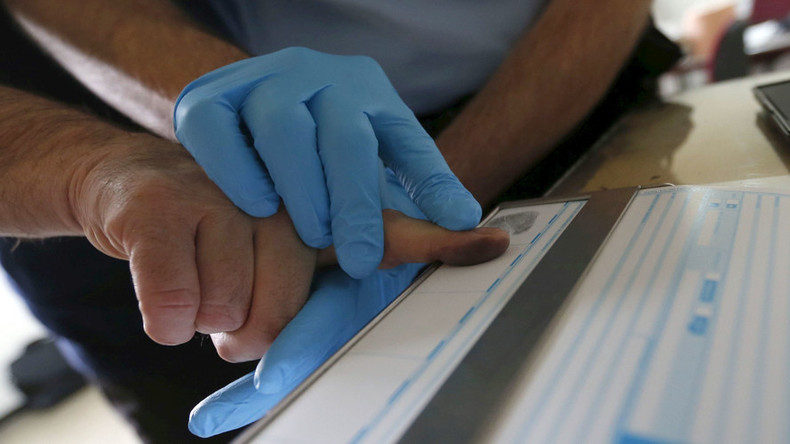 A senior member of Russia's Public Chamber has proposed introducing fingerprinting of all visitors from the US and the EU, citing security reasons and the necessity for a symmetric response to nations that already fingerprint visiting Russians.
The chair of the Public Chamber's commission for popular diplomacy and support of compatriots, Yelena Sutormina, wrote of this issue in a letter to Interior Minister Vladimir Kolokoltsev. She mentioned that the European Union was suffering from an influx of extremists, who come to EU countries posing as refugees from Middle East and North Africa. "It cannot be ruled out that in the future various forces would attempt to infiltrate their agents into Russia from the European Union," Sutormina wrote.
She went on to say that the United States introduced fingerprinting for all visa applicants from Russia a long time ago, and since last year EU countries have followed suit. "Our understanding is that introducing fingerprinting of visitors will be an absolutely adequate response," she said. However, Sutormina added this measure should be introduced with caution, as it could adversely affect tourist flow to the country, and Russian authorities are not interested in this.
The activist told the minister about plans to discuss the issue in the Public Chamber and asked him to either participate personally or send a representative.
In November 2014, Russia introduced full biometric registration of all foreign citizens and those without citizenship who receive entry visas. However, no checks are being conducted during border crossings. The move was proposed by the Foreign Ministry in 2015 in response to the planned introduction of universal fingerprinting of Russians wishing to enter the EU.
READ MORE: Putin orders fingerprinting of all foreigners arriving in Russia
In July 2014, lawmakers from the leftist Fair Russia party suggested starting photographing and fingerprinting all foreigners crossing the Russian border. The sponsors of the bill said it would enhance the security of Russian citizens and guests alike, and also help the Interior Ministry to identify people and prevent and solve crimes. This bill has not become law, however.
Earlier, a similar move was proposed by the head of Russia's top federal law enforcement body - the Investigative Committee, but it wasn't implemented because putting the necessary equipment on all border crossings turned out to be too expensive.
In November 2014, members of the populist nationalist LDPR party drafted a motion requiring universal fingerprinting and DNA profiling of all Russian citizens, setting up a central government database for this information and launching a special federal agency in charge of biometrical scanning. The sponsors of the bill said it was necessary to tighten security and also claimed that enacting it would allow scrapping other forms of ID and significantly cut red tape. So far, this proposal has not passed hearings in the Lower House.
READ MORE: Bill to have all Russians fingerprinted and DNA profiled submitted to parliament