Nationalist leader Zhirinovsky sues Gorbachev over slander in memoirs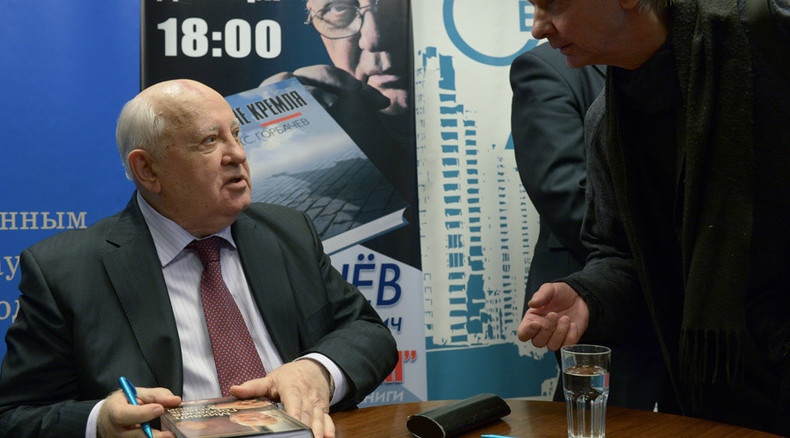 The leader of the Russian Liberal Democrats, known for eccentric behavior, is seeking a million rubles in moral damages from ex-Soviet President Mikhail Gorbachev, over charges of extremism and provocations in the latter's latest book.
Vladimir Zhirinovsky claims in his lawsuit that Gorbachev inflicted damage to his honor, dignity and business reputation when he wrote about "extremist slogans" the LDPR leader had vented early in his political career. Zhirinovsky also protested against claims he had been "involved in provocations," the Moskovsky Komsomolets daily reported on Wednesday.
The lawsuit targets both Gorbachev as the author of his memoirs and the publishing house that released the book. Zhirinovsky is claiming one million rubles (about $15,300) in damages and is also demanding the defendant publicly refutes his statements.
READ MORE: Lower house scandal: Pro-Putin movement seeks probe into nationalist insults
Mikhail Gorbachev's memoir "After Kremlin" was released by the Russian publishing house "Ves Mir" in 2014. In it the former Soviet leader says most modern problems in international politics, in particular the Ukrainian crisis, are rooted in the hasty and thoughtless breakup of the USSR. He also wrote that a peaceful outcome could only be reached if Russia and the US resume dialogue.
Vladimir Zhirinovsky is one of the most experienced players on the Russian political scene, but his whole career has been littered with scandals and relentless attention seeking – from throwing money into crowds of supporters during election campaigns, to verbal attacks on colleagues and reporters.
In the latest such incident, representatives of the United Popular Front movement asked prosecutors to discipline the LDPR leader after he called parliamentary majority MPs thieves, and accused them of fomenting anti-government riots.
In 2014, the State Duma ethics commission ordered Zhirinovsky to issue a public apology after the politician had insulted a pregnant journalist and ordered his aides to "sexually attack" the woman in front of TV cameras.
READ MORE: Uproar as LibDem leader Zhirinovsky attacks pregnant reporter