Crimean leader invites foreign stars to 'Russian Beverly Hills'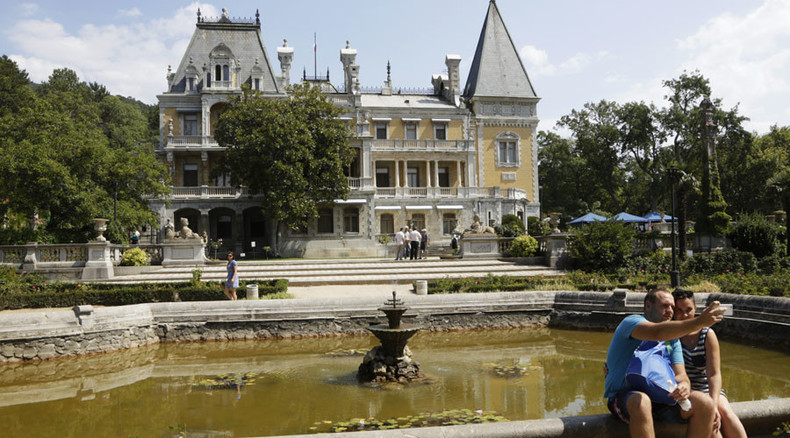 Head of the Crimean Republic Sergey Aksyonov has addressed all foreign celebrities with an open letter promising them free land plots and government support to settle in exchange for promoting Crimea as a major tourist destination.
"If honored stars wish to settle in Crimea they're absolutely welcome. If they decide to buy any real estate in here, to domicile or to come on vacations they won't face any administrative or other barriers," reads Aksyonov's letter published by the popular Russian daily Izvestia.
The regional leader added that Crimean civil servants could help the celebrities with finding a preferable place by the seaside, in the mountains, in the forests or on the steppes – the peninsula offers any of these options.
"We shall encourage the new Beverly Hills to rise up in the Crimea eventually," the address reads.
Read more: Putin, Berlusconi hold informal meeting in Crimea
The head of the Russian region reminded in his message that over the past months several foreign celebrities expressed their intent to move to Russia and receive Russian citizenship. Among them are the US boxer Roy Jones Jr., frontman of US rock group Limp Bizkit Fred Durst and the French film star Samy Naceri.
"The fact that foreign athletes, musicians and actors treat Russia with such sympathy can cause nothing but joy," Aksyonov stated in his message.
Andrey Filonov, mayor of the Crimean resort of Yevpatoria told reporters that foreign stars who agree to participate in the international promotion of Crimea as a major tourist destination will get land plots there for free or with large discounts. He said that the very fact that some celebrities decide to live on the peninsula would add in to its brand value.

The official also noted that even if foreign celebrities chose not to use the offered preferences, real estate in Crimea would cost them much less than in any of the more usual fashionable places.
"What are the current prices of celebrity villas near Los Angeles? It is always 30, 50 or 60 million dollars. In our region it is possible to buy a former sanatorium for 5 or 6 million [US dollars] and invest 10 more million on renovations," he said.
The head of the Crimean town of Feodosia, Dmitry Schepetkov, added that the small seaside villages on the peninsula had always attracted Russian artists and famous people and now it is possible to meet such stars as tennis champion Maria Sharapova or writer Viktor Yerofeyev in the place called Koktebel.
Read more: Orthodox faith should speed up Russian citizenship applications - MP
Roy Jones Jr's Russian promoter Vladimir Khryunov told Izvestia that the US boxer had already chosen a home in the city of Sevastopol. He added that Jones wants to use Sevastopol as a venue for a film about himself because it looks very much like the city in the United States where he grew up.