Customs service asks government to make contraband of banned foods criminal offense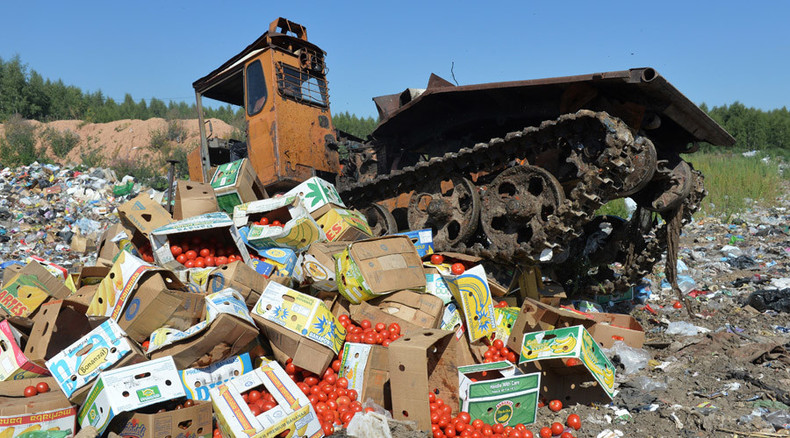 Russia's Federal Customs Service proposes to criminalize illegal food imports from sanctioned countries. If approved, the motion would put embargoed foods on the same list with weapons of mass destruction and endangered animals.
The authors of the draft posted on the Russian government's website on Thursday state that the current administrative responsibility for food contraband is insufficient to stop those who benefit from importing banned goods. Instead of fines between 100,000 and 300,000 rubles ($1540 - $4615) and destruction of the seized contraband, they want to punish such attempts with fines up to 1 million rubles ($15,400) and prison sentences between three and seven years. That could be raised to between seven and 12 years if contraband is smuggled by an organized ring.
READ MORE: Putin agrees to destroy banned foodstuffs at Russian border crossings
The same article of criminal code is applied to those who attempt to smuggle weapons of mass destruction, nuclear materials, poisonous substances and explosives, firearms and ammunition, large quantities of strategically important goods and objects of cultural value, as well as endangered wild animals into Russia.

The bill is put online for public discussion and if passed it would come into force in March 2016.
In early August, Russia introduced obligatory destruction of all food products imported on its territory in violation of the food embargo. The ruling doesn't apply to food items brought to Russia by individuals for personal use if they are accompanied by proper paperwork. According to Russian state watchdog Rospotrebnadzor, 500 tons of seized contraband foodstuffs were destroyed in in just one week after starting to use the new procedure.
At the same time, the head of the agency told reporters that the number of attempts to smuggle embargoed products into the country had fell 10 times even after the decree on their destruction was signed by President Putin and even before it came into force.
Despite this apparently positive effect the new rules have caused a huge reaction from the Russian public and politicians. Some lawmakers suggested that instead of burying the banned products with bulldozers and burning them in industrial incinerators the authorities should send them to the civil war-torn Ukrainian regions of Lugansk and Donetsk, or to Russian orphanages and charities.
The Communist Party in the State Duma has drafted a bill reading that any agricultural product imported in the Russian Federation in violation of the trade sanctions should be seized and made state property. After this, such products can be used as aid to low income families, victims of natural disasters and other emergencies and any other people in need of such help.
READ MORE: Communists draft bill allowing handouts of seized banned food to needy
Russia introduced the major embargo on food imports in August 2014 as a reciprocal measure for sanctions used by Western nations after the reunification of the Crimean Republic with the Russian Federation. The ban first applied to meat, poultry and fish, cheese, milk, fruit and vegetables from the United States, EU countries, Australia, Canada, Norway, Japan and a number of other countries. In mid-August this year five more countries including Ukraine were added to the sanctions list.