'Foreign Agents' discredited elections monitoring in Russia, top official claims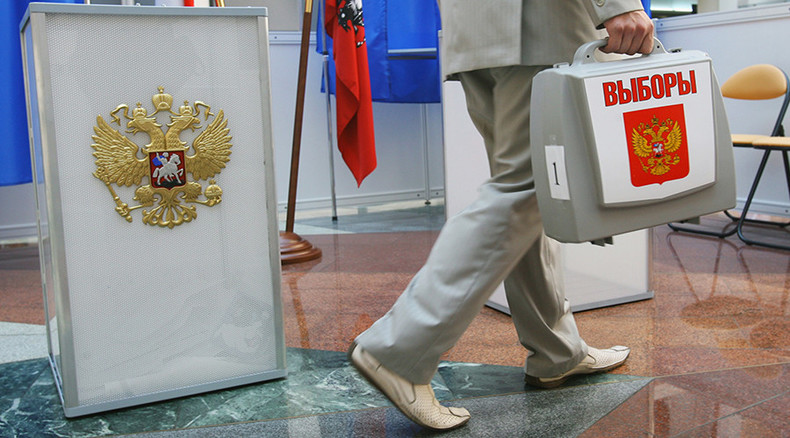 The deputy head of Russia's Central Elections Committee says that foreign-sponsored groups that had monitored polls in the country had completely discredited the very idea of public control, but allowed for future improvement of the situation.
"The organizations that used to conduct the allegedly professional monitoring have completely discredited themselves. They have also discredited monitoring as an institution but we hope that the situation will improve with time," Leonid Ivlev said at the committee's session Wednesday.
He added that many NGOs were changing to adapt to new Russian laws by changing their names and legal structure, but in essence they remained foreign agents.
In late 2012 Russia introduced the so-called "Foreign Agents Law" ordering all NGOs engaged in politics and receiving any funding from abroad to register as foreign agents or risk substantial fines. Groups with "foreign agent" status are banned from sponsoring Russian political parties, but otherwise their activities are not restricted.
READ MORE: Putin signs controversial 'foreign agents' bill
Several Russian and international NGOs criticized the new law as discriminatory and contested it in Russian courts and in the European Court of Human Rights, but with no result. The sponsors of the act and top Russian officials have repeatedly emphasized that its main purpose was providing better information for voters that would eventually benefit democracy.
In June, President Vladimir Putin admitted the possibility of amendments to the Foreign Agents Law, but added that in general the law is fit for purpose.
Putin's statement was made after the Society for Protecting Consumers' Rights warned Russian citizens against visiting Crimea without agreeing their trips with Ukrainian authorities, adding that those who fail to follow this procedure could be denied visas to Schengen states. The claim was almost immediately dismissed by Russian officials and many people doubted that it was technically possible for European embassies to monitor the movement of Russian citizens on Russian territory. The NGO's representatives, however, insisted that this was possible in theory and impossible to prove as embassies usually don't explain the reasons behind visa refusals.
"The recent events with the organization that supposedly looked after consumers and started to issue recommendations on how our tourists should behave in Crimea and how citizens should approach real estate issues in Crimea… What was this? Were they looking after Russian citizens? No, they service the interests of foreign states regarding Russia," Putin said. He also noted that it was a very good example of a situation that the Foreign Agents Law was designed to combat.
READ MORE: Putin agrees to corrections of 'Foreign Agents Law', blasts NGOs servicing foreign interests
As of today about 80 groups are included in the Justice Ministry's register of foreign agents.