Russian arms chief pledges to completely replace Ukrainian components by 2018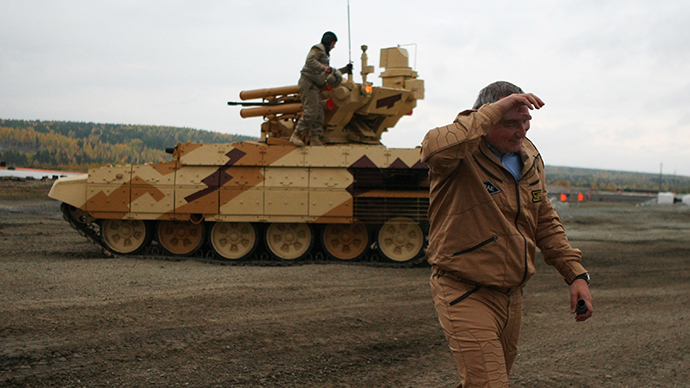 Deputy PM Dmitry Rogozin has told the State Duma that by 2018 Russian defense industry will completely overcome the dependence on Ukrainian-made components as well as from a large number of producers from EU and NATO countries.
Rogozin, who oversees the Russian defense industry and also holds the post of the deputy chairman of the national Military-Industrial Commission, headed by President Vladimir Putin, presented a detailed report on import replacement to the State Duma on Wednesday.
He said that before the government addressed this problem Ukrainian-made components had been used in 186 models of Russian weapons and military hardware. "And it would be wrong to describe the components from Ukraine as new technology," Rogozin said adding that most of these products were developed in Soviet times.
He also told lawmakers that a total of 640 models of Russian arms and military hardware were made with use of foreign-made parts and materials.
Rogozin said that by 2018 the defense industry planned to fully replace with Russian products 571 types of foreign-made components. First this will concern the components made in Ukraine and on the second stage of the program Russia would start replacing hardware made in EU and NATO countries. He said that the government planned to run in 100 new defense industry enterprises before the end of the year.
READ MORE: Russia has no plans for new arms race – Putin's aide
The deputy PM admitted in his speech that there was certain negative effect from the Western sanctions, especially in the space industry and the development of the Russian global positioning system GLONASS. However, Russian own enterprises are already working on this problem, he noted.
"Due to improvement of the mathematics and modernization of our spacecraft the precision of positioning of the GLONASS system will be to within 60cm in 2020," Rogozin promised.
"The military need weapons and military hardware already today, but the weapons must be produced by modern factories. We will need years and enormous human effort to place and install them," he told the State Duma.
Rogozin also said that despite all current problems Russia had US$49 billion of export orders on defense products, retaining one of the leading places in the global arms trade. According to him, in 2014 Russian arms makers exported their goods to 32 countries. In 2013 the revenues from such contracts amounted to $15.74 billion and it remained on the same level in 2014.
READ MORE: Russia refuses to join major arms trade treaty citing document's weakness
In February this year, Rogozin called the anti-Russian sanctions imposed by Western countries discriminatory and noted that these restrictions often targeted companies whose products were on a par or better than the competition.
"By declaring new sanctions against Russia, the USA is demonstrating its panic," the deputy PM tweeted.
In November 2014, Rogozin said Western sanctions would only make the Russian defense sector stronger by speeding up import replacement. He also noted that the plan to make Russian weapons makers independent from foreign partners would go on even if the sanctions are lifted.