Communists seek to ban Russian PM from party leadership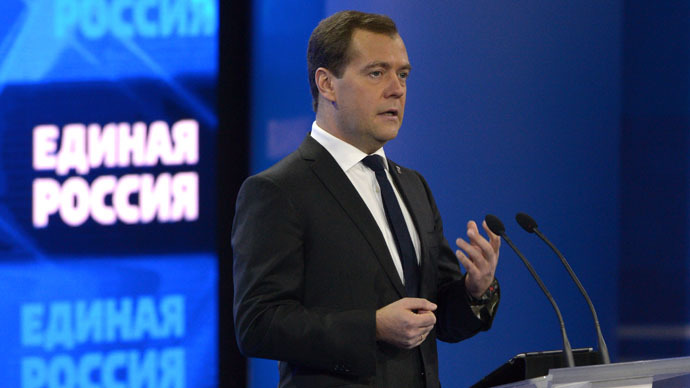 A group of Communist Party lawmakers have drafted a motion that, if passed, would prevent Prime Minister Dmitry Medvedev from leading the United Russia party. The bill's sponsors claim it would strengthen the separation of powers in Russian politics.
The sponsors wrote in an explanatory note that the present situation when the government is chaired by the head of parliamentary majority party leads to a situation where the State Duma only passes the bills developed by the government. "Other parliamentary factions and MPs are practically left outside the lawmaking process," the note reads.
Communists went on to call the State Duma, Russia's lower house of parliament, "a government department that puts stamps on bills sent from the government" and called for changes that would do away with this alleged violation of the principle of separation of powers guaranteed by the Russian Constitution. They also suggested that Duma had allegedly passed the drafts sponsored by corrupt officials "because MPs were afraid to speak against their party boss."
The MPs sponsoring the bill also said that the current situation might contradict the existing federal law on political parties that bans any interference of state ministries or agencies and their officials into the activities of political parties, as well as any influence of political parties on the work of state officials and state bodies.
The situation can only be improved if the Russian prime minister is legislatively banned from heading any political party or holding any role in the ruling body of any political party, the Communist lawmakers said.
READ MORE: PM Medvedev: Endless government dismissal rumors don't bother me
Current Russian Prime Minister Dmitry Medvedev was elected the head of parliamentary majority party United Russia in 2012, soon after he stepped down as president and Vladimir Putin offered the prime minister's job to Medvedev as one of the points of his election manifesto.
The Communists' bill has engendered a mixed reaction in the Duma. The head of the Liberal Democratic Party caucus, Igor Lebedev, said that the suggestion was logical, but doubted that it would pass in its current form.
The deputy head of United Russia's caucus, Frants Klintsevich, told reporters that his party had not yet discussed the motion but in his personal opinion it was not correct and had no chances to pass. Klintsevich said that, according to Russian law, the prime minister is appointed by the president with the State Duma's approval and there was no point in changing this procedure. He also said that the federal law the Communists were referring to only forbids state officials to use the advantages of their positions for the benefit of political parties, and this does not cover their regular work.