Russian PM rules out introducing blacklists for reporters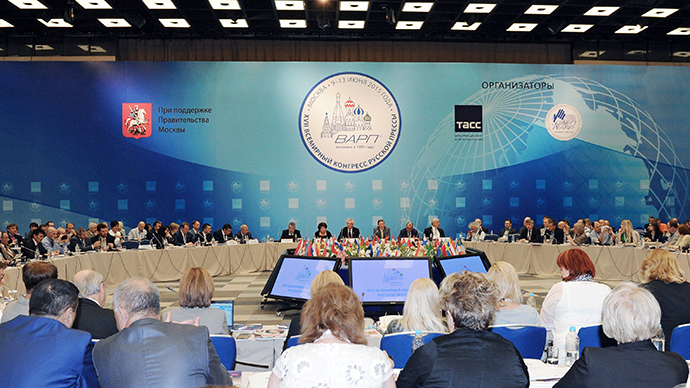 Dmitry Medvedev has described the restrictions on journalists' work introduced in certain countries as an "outrage," and assured an international press congress that Russia would never stoop to such measures.
"Whole numbers of countries already have black lists of journalists, with a ban on working, travel restrictions, and violations of other basic rights. This is an outrage," Medvedev said on Thursday when addressing the international Congress of Russian Press in Moscow. "The authorities in these countries are pursuing their own political goals, they claim to be fighting 'agents of Moscow influence,'" he said, adding that this was very similar to what happened in Russia during the Soviet period of its history.
"Anyway, we should not assimilate such countries' practices and exercise such an approach," the Russian PM told reporters.
Medvedev also praised the main organizer of the event – the World Russian Press Organization – for its role in securing freedom of expression and mass media independence all over the world.
"The leaders of our countries [Russian-speaking ones] have always acknowledged the extremely important role of the congress and the mass media united and solidarity with the Russian-speaking community and the whole Russian World," he said.
He added that representatives of the Russian-speaking media community could have very different political views and platforms, but despite all differences they were united by a common language and a common cultural code. "They give people who live in different countries a single system of coordinates that is above political arguments and ideological struggle," he said.
The Russian PM stated in his speech that in the modern world propaganda often replaced journalism and called upon reporters to remain unprejudiced and unbiased and keep telling the truth.
READ MORE: Nationalist lawmaker moots visa ban for foreigners attacking Russia on web & MSM
Medvedev said Russia would continue to render financial help to Russian language mass media and to assist in the creation of favorable conditions for their work. "We are interested in giving the Russian language mass media the best opportunities to describe events in Russia and in providing them with firsthand information and comments."
The World Association of Russian Press or WARP is a major NGO uniting Russian language mass media all around the globe. The association was launched in 1999 at the first Congress of Russian Press in Moscow and Sochi.
The 17th Congress in Moscow started on June 9 and will continue to June 13. The heads of over 500 media outlets from 63 countries are taking part.