Ruling party lawmakers suggest anti-globalist amendment to Russian constitution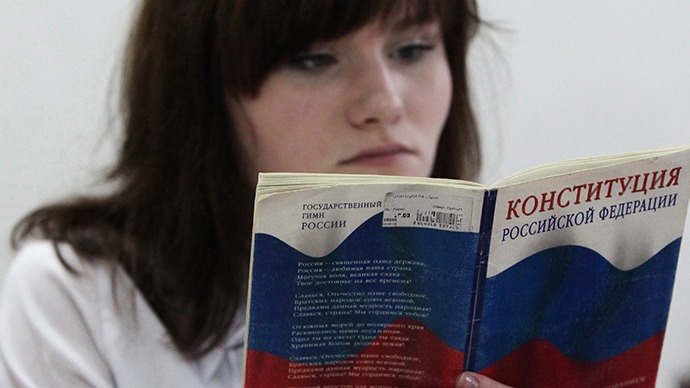 Two MPs representing the centrist United Russia conservative party want to make changes to the introduction of the Russian Constitution and exclude the part that declares the Russian people a part of some larger global community.
One of the sponsors of the initiative, Yevgeniy Fyodorov, said in comments with the Izvestia daily that the bill had been prepared because the current Russian law allows changes to be made to the main text of the Constitution, but not to the so-called preamble – the introductory part containing the document's general principles.
Fyodorov noted in particular that the current introductory text reads: "The multi-ethnic people of the Russian Federation are united by a common destiny … and realize themselves as part of the global community." He called it unique and said no other constitution in the world declared its nation part of some larger community.
"Our bill allows changing the preamble and this would allow changing the direction and development of our country – because today Russia needs this," Fyodorov said.
The lawmakers suggest expanding the general procedure of introducing amendments to the Constitution – approval by legislatures in two thirds of the 85 Russian regions.
Yevgeniy Fyodorov is known for his numerous legislative initiatives aimed against the influence of foreign states and international groups on Russia's domestic politics and economy. In March, he drafted a bill that bans foreign citizens from participation in any opinion-forming public events, such as street rallies and marches. In June 2014, he said he was preparing a motion that would completely ban state-owned companies from using the services of US consulting firms and their subsidiaries. Prior to that, he suggested outlawing the use of US accountancy firms to audit state corporations.
READ MORE: 'Aggressor nation' bill put to parliament
Fyodorov is also among the main sponsors of the bill on "aggressor nations" drafted earlier this year. This document provided for the government to define all countries that introduce sanctions against Russia as "aggressor nations" and ordered automatic reciprocal sanctions against them.
However, Fyodorov's motions received negative reviews from the government and Lower House committees as they either duplicated existing norms or created unnecessary complications. They are now being reworked.