Leftists target foreign scholarships to fight brain drain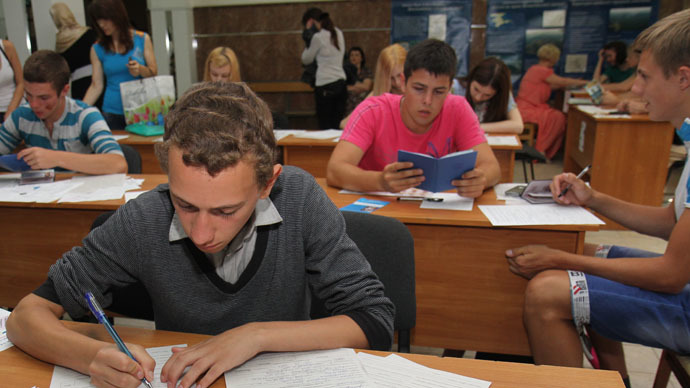 The Communist Party says it is working on a bill that would seriously limit the activities of foreign educational organizations to prevent a major danger to the Russian economy – the brain drain.
The head of the Communist Party's law department, Vadim Solovyov, told Izvestia daily that the bill would completely ban the work of all foreign non-commercial groups and endowments that select talented young people and offer them grants and fellowships for study abroad.
Solovyov blamed the current work of such organizations for the deficit of skilled scientists and engineers which, in his words, could damage the country's future development potential.
"Any country that starts giving away its future would not have any. This is against our national interests. We are submitting the bill that would ban the work of the groups that take away our talents, like slave traders who transported people abroad on pirate ships," Izvestia quoted the lawmaker as saying.
Solovyov also said that if the suggested restrictions come into force the Russian state would itself launch an effective mechanism for selecting gifted students and sponsor their education abroad – on the condition that the specialists would return and work in Russia.
The Communists' initiative echoes the statements of President Vladimir Putin who touched upon the problem of the brain drain at the forum of the Business Russia association in May. The president said that there were a lot of foundations in the country that offered contracts to students who wanted to study abroad, but none of these students return to Russia.
READ MORE: Communists want Soros Foundation branded 'undesirable' group
Earlier this month, Communist Party lawmakers suggested to officially outlaw the work of one of the biggest NGOs engaged in research and education, the Open Society Institute, also known as the Soros Foundation. However, they justified their suggestion not by the NGO's involvement in the brain drain, but by its alleged "proxy subversive operations" seeking to overthrow the Russian political regime. They also blamed the Soros Foundation for the destruction of the Russian education system, manifested in the much-criticized system of single state exams for schoolchildren as well as underfinancing of schools and institutes.