'Knee-jerk reaction of the military in Egypt not bringing democracy closer'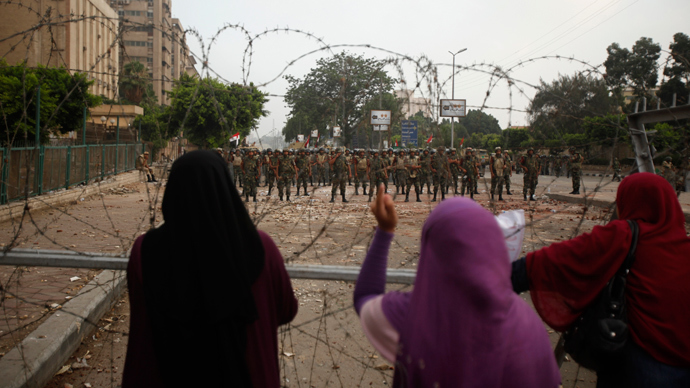 Morsi had a very challenging task, the Egyptians show a little bit of impatience and not enough pragmatism, Middle East analyst and journalist Nabila Ramdani told RT. The army's main duty is to protect civilian life, not interfere in politics.
RT:With Egypt engulfed in protests and in a power deadlock, there is a worry amongst a lot of people that the country is going to slip into a civil war. Russian President Putin is concerned about the possible drift towards a civil war. Do you agree with these thoughts or no?

Nabila Ramdani: Well, I think that's a real danger that indeed the country could sink into a civil war. We have already seen extreme violence displayed on the streets of Egypt and not least of all because we are effectively witnessing a backlash against a military coup occur straight against the democratically elected president. We have deeply entrenched camps already fighting on the streets of Egypt on the one hand. You have the Muslim Brotherhood supporters who feel that they have been robbed of the democratic mandate and they are now persecuted by the military. Seeing the supporters of the Muslim Brotherhood being rounded up, of the president who has been deposed and jailed, travel bans have been issued against Muslim Brotherhood supporters and indeed leadership. The Muslim Brotherhood itself is threatened to be annulled or cancelled as an organization and the headquarters of Freedom and Justice Party has been shut down. 
RT:Did the military have any choice, as millions were protesting against Morsi, but to get him out?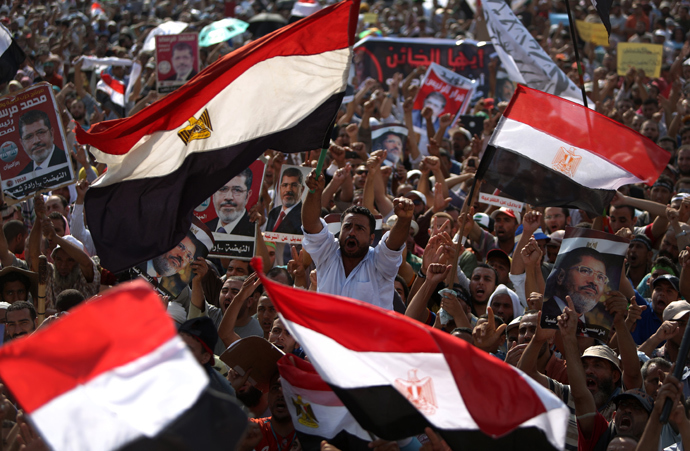 Nabila Ramdani: I don't believe that's how you bring about democracy but in fact what the army is showing at the moment that it's reasserting its position as a political kingmaker indeed choosing compliant figures whom they can put in power so as to preserve their own interest. We are seeing how they are delivering now a ready-made interim government essentially manufacturing the democracy. But of course democracy is about the will of the people and the people have spoken last year and that's precisely why the Muslim Brotherhood supporters are calling for the president to be reinstated and for legitimacy of the people. And it's also to be highlighted that the major failure of the army here is to protect civilian life. It's the number one duty instead of interfering in political affairs. And indeed one has to highlight the fact that the major stake in the economy, something that they are unlikely to give up any time soon. 
RT: But isn't that also a case that the goals the Muslim Brotherhood gives in a year, they prove that they could solve many problems. They have seen much criticism that all those policies  just doesn't work. Is this because those policies were to retouch with what the public wanted or did Morsi need more time to make good what was needed?
Nabila Ramdani: I think it has to be said that Egypt is a massive country. It has between 80 and 85 million people. And it has profound structural problems including major economic problems. 1 in 4 Egyptians live below the poverty line. Egypt experiences a chronic unemployment, endemic corruption, the cost of living is soaring, criminality quadrupled under Morsi's presidency for example. But crime has always been an issue in Egypt and I think perhaps we're talking about pledging democracy when you can sort out problems that have been deeply entrenched and currently effectively emerged from 32 year of dictatorship and 60 years of military rule. This king of problems can't be sorted overnight. It has to be highlighted that descent and indeed failure is a part and parcel of politics. I think President Morsi was going to have a very challenging task on his hands and perhaps the Egyptians show a little bit of impatience and not enough pragmatism. And a kind of knee-jerk reaction we've seen with the military moving in not the answer to the path towards democracy.