TwitterMania: Trump 'body slams' CNN over 'non-stop disinformation campaign'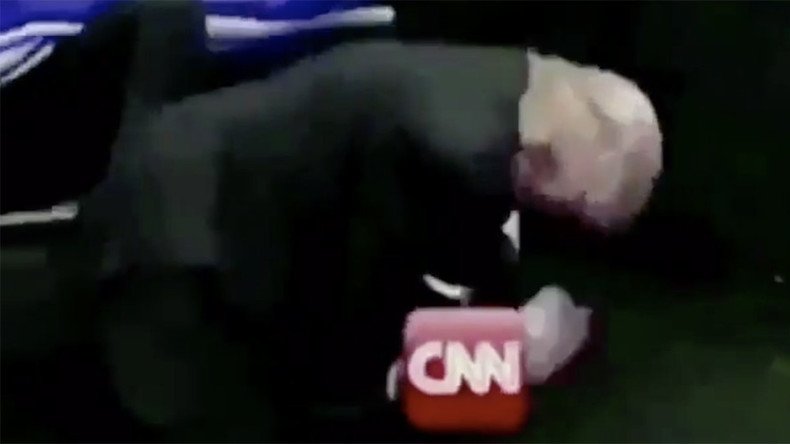 When it comes to spewing fraudulent nonsense about what happened in the election and after, CNN has severely lost its way, Charles Ortel, political analyst and writer, told RT.
US President Donald Trump has created a stir on social media platforms by posting a mocked-up video of a wrestling match between him and CNN, which he altered in the tweet to "FNN: (Fraud News Network)."
The video appears to be an edited clip from a past Trump appearance in WrestleMania, a professional wrestling event.
The US president, who has been on the receiving end of hostile media reporting since entering office in January, has accused CNN of producing fake news about many aspects of his presidency, first and foremost his alleged collaboration with Russia during the election.
To date, no evidence has been produced to substantiate the claims, and it seems the ongoing attention has taken its toll on the US leader.
CNN has responded with its own tweet, accusing the president of encouraging violence and juvenile behavior.
RT: Has Trump taken his war against CNN to a new low, as some are saying, by posting this video?
Charles Ortel: Absolutely not. Let's remember that in the case of CNN, we're talking as regards Trump - indeed, it is against the conservative elements of the USA, of a non-stop disinformation campaign. When it comes to Trump spewing fraudulent nonsense about what happened in the election and after the election - they've severely lost their way, which is evidenced in the long-term trend in their viewership. I would hope that some advertisers would see the wisdom in pulling dollars away from spending on CNN and on the broader Time Warner network. So no, I think Donald Trump is making points effectively. The surveys – they are not scientific surveys that are up already show this latest thing is a master stroke. I think he should tweet even more; he should hold the mainstream media to account.
RT: CNN said Trump has better things to do than pick fights. Do you think his behavior is warranted?
CO: In this case I do. Let's remember this is the network – admittedly, they later fired Kathy Griffin for holding up a mock severed head of our President on CNN - the same network that is complaining about a cartoon. Give me a break! I would say CNN has better things to do than they did, for example, a couple of years ago, wasting all that time on the missing Malaysian flight, and then in the last number of months here going on and on about this supposed Russian collusion and hacking story, which I hope at this point has been dealt with. It is kind of rich for CNN to be calling the kettle black here.
RT: Do you think CNN will up its fact-checking game after this intervention by the president?
CO: One would hope so. A sad fact of life since from about 1999 is that instead of having newsrooms filled with empowered investigative journalists with budgets, the mainstream media has cut back on that, so that even CNN doesn't really have that many investigative journalists there, nor does the New York Times. I think that is evident in their reporting. It'll take a while to turn the trend around.
RT: CNN has been embroiled in a scandal over a fake Trump-Russia story. Do you think the channel will now tone down its Russia coverage?
CO: What has happened here over the decades is that the professors who select and then the media people who hire journalists have a distinct left-wing bias, and they run many of the newsrooms. In fact, they have influence even in conservative newsrooms like Fox [news]. So you can't turn a battleship around quickly. I would hope though that the top people, the suits above the newsroom at, for example, CNN, and the money behind the New York Times, is seeing the handwriting on the walls here. The people don't want fiction. If we want to read fiction – as Hillary apparently likes to read fiction - we can do that. We don't turn on fake news. That is obvious in viewership now.
The statements, views and opinions expressed in this column are solely those of the author and do not necessarily represent those of RT.
You can share this story on social media: