Moscow-Ankara Turkish Stream gas pipeline is 'pragmatic deal & good economic news'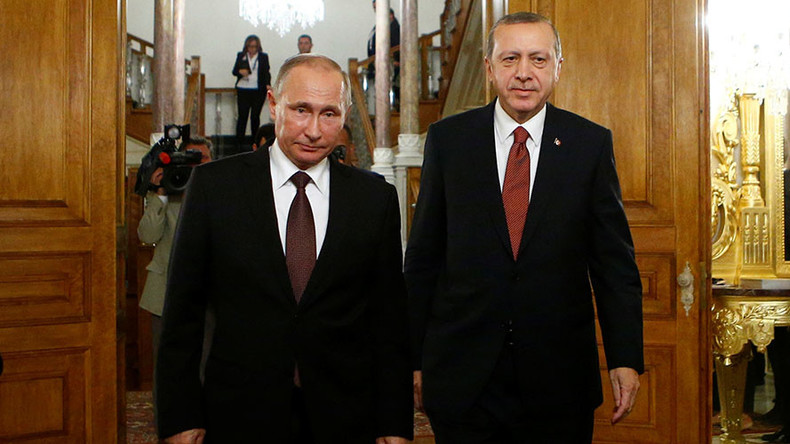 The Turkish Stream gas pipeline between Russia and Turkey is a pragmatic attempt at reconciliation, experts say. The deal is also benefits Europe as it means billions of dollars in investment and thousands of new good paying jobs.
On Monday, Russian leader Vladimir Putin and Turkey's President Recep Erdogan signed the Turkish Stream gas pipeline deal. It will be built to get Russian gas to Turkey and Europe. According to Putin, the pipeline will transform Turkey into a major energy hub.
According to Adam Garrie, politics author at The Duran, the deal is important to Moscow and Ankara for pragmatic reasons.
"Ever since the illegal overthrow of the Ukrainian government in 2014 it was difficult to pass gas through that country, because it's become a warzone built on top of the lunatic asylum," he said. As for Turkey, "for all the past and even recent past capriciousness of President Erdogan, there seems to be a genuine attempt at pragmatic reconciliation." Garrie added that "no one does pragmatism better than Putin," and Russia's Foreign Minister Sergey Lavrov, and that was on the display on Monday.
The deal has drawn some criticism from the US and Brussels as they fear it could increase Europe's dependence on one energy supplier.
According to Garrie though, for Europe it's the open market that "dictates what is more convenient and it is easier to buy gas from Russia than anyone else."
"And where the US conveniently across the Atlantic can see it as an ideological matter, for Europe it is a matter of pounds, shillings, and pence, dollars and cents, in sense. I think Europe is going to have to be dragged along and do the practical thing. It is good for Europe in the long-term, whether their leaders want to admit that, but obviously by being so reticent to deal directly with Russia – the bigger benefit is of course is going to go to Turkey," the analyst told RT.
Mark Thornton from the Ludwig von Mises Institute called the Turkish Stream agreement "wonderful" and said it was "economic good news."
"It means billions of dollars in investment; it means thousands of new good paying jobs in many countries – Russia, Turkey, and many European countries as well. It is going to be greater access to energy sources for a very large area of the world; lower prices; and most importantly - greater diversification of the sources from which we get energy," he told RT.
Commenting on US concerns regarding Europe's dependence on Russian energy, he said it "just doesn't hold water."
The region has "always relied on Russia for energy – particularly oil in more recent times natural gas," Thornton said. "The idea that it represents anything new is really ludicrous. Russia is one of the only long-term energy exporters. Of course it has been joined by the UK and Norway in recent decades, but this is a tradition that is going back for a century."
RT also asked Thornton whether the deal might affect Turkey's relationship with the US.
"I hope people start playing like world leaders, particularly in the Middle East, start acting more like adults than like children, because it is hurting a lot of people in the process. We've seen movement in that direction in countries like Iran and other countries in the Middle East. So hopefully this means that the Turkish leader is living up to his obligation to better lead his country and his people and keep them out of harm's way, and to make sure that the economy is going to grow faster. This pipeline is one element of that – it means better access to energy, lower cost energy, and basically more jobs. Turkey is building itself into an energy hub with energy flowing from all different directions through its territory," he said.
Oil prices could easily reach $60
Speaking at the World Energy Congress in Istanbul on Monday, President Putin said Russia will join OPEC's efforts to cut global crude output. The oil price spiked following the announcement.
"It is not surprising at all that non-OPEC producers are joining OPEC in curbing oil production and exports," Thornton said. "All those countries have old sources of oil that are very high cost. It doesn't make sense to run those oil fields, when the oil price is $40 a barrel. So far those moves have gotten the price of oil into the low $50 a barrel. I think that over the next coming months with a declining value of the US dollar, oil prices could easily reach $60 a barrel."
If the oil price recovers, shale producers might ramp up production. According to Thornton, "supply and demand does impact the market for oil just like anything else."
"As the price rises you'll get not only more production out of existing wells, but you get people starting to look for new sources of oil, like they did, when oil was over $100 a barrel. It is a kind of a cap, because we've discovered so much new oil and gas – much of it high cost though. So that is going to keep a cap on prices rising, at least in the short run – because we have discovered markets have worked, and when the price of oil got up to $120 a barrel, everybody around the world was out looking for oil and gas. It just proves that the marketplace – even in the face of OPEC and nationalized oil industries around the globe – that the market still does work," he concluded.
The statements, views and opinions expressed in this column are solely those of the author and do not necessarily represent those of RT.