'High Noon showdown brewing in EU as Russian sanctions vote looms'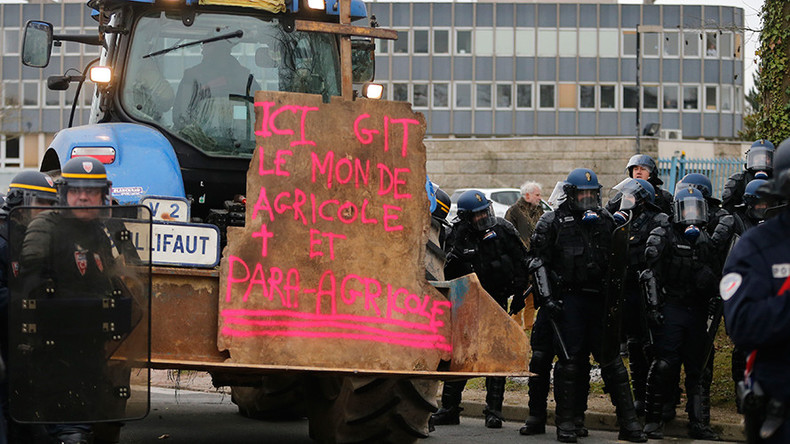 The ongoing debate over Russian sanctions is a continuation of an old story regarding the question: Who controls Europe, asked William Mallinson, a former British diplomat and Professor of Political Ideas and Institutions at the Marconi University.
The French Senate has adopted a resolution calling to ease sanctions on Russia which were imposed following the conflict in Ukraine. Earlier, a similar resolution was also passed by the French National Assembly.
Although both resolutions are not binding, they send a strong signal of discontent to President Hollande's administration.
Lawmakers are urging an end to punitive measures against Russia, stressing that Moscow remains a strategic partner for both France and Europe. They're also hoping Russia will lift its food embargo against EU products in response.
RT: The vote is non-binding. But if the Senate supports the resolution, can we expect any imminent action from the government?
William Mallinson: There will be some scurrying around because it was an enormous majority. I think it was 302 to 16. That is highly significant. You are going to see on the one hand a huge amount of pressure via the American Embassy and other certain quarters, and from London to try and ensure that France doesn't actually say 'We should drop the sanctions' at the Council of Ministers next month. So, it is a bit of a high-wire situation actually. Also, let's not forget the French presidential elections are next year and the only actual 'Gaullist party' - although it is not called a Gaullist party - happens to be the party of Marine Le Pen, who happens to be very much against the sanctions and who may win the French elections. So if you put all that into the cocktail then I think there is a possibility that even France, provided that Italy joins them, could well simply say: "No, we must stop these sanctions, perhaps not immediately, perhaps let's stop them now." I think there is a possibility. Because the French themselves are getting slightly fed up with too much Atlantic pressure. For example, don't forget that they are still smarting from the story of the two helicopter carriers [Mistral] that they were about to sell to Russia and then America said "no"… This sort of thing does feed through to the general population in the end. And remember that as we can see now on the streets of Paris the French have got, even though it is a weakening one, a tradition of protest. And so we could see a kind of neo-Gaullism slowly coming into the picture. That is what I see at the moment, historically speaking anyhow. As I say, it depends on some of the other countries. More and more people are standing up now. Even regions of Italy - Liguria quite soon is going to say something. I think their leader has spoken about the "suicidal measures" taken against Russia. We've already had the Veneto which has tradition of independence. We've got the Hungarians - not for altruistic reasons, I think, but business reasons. Even the Austrians. So, I think it is going to be a bit of 'High Noon' situation in July. Big behind the scenes, big backstage pressure. It is the old story – who controls Europe: is it the Anglo-Saxons, is it Europe itself which it should be, or whoever? I think that is what it is all about.
Prof. Dr Klaus Mangold, the chairman of the Committee on Eastern European Economic Relations, a former member of the Board of Management of DaimlerChrysler AG, commented on the issue: "I believe that we should come to an end with the sanctions in the very near future. I believe the first step should be done as soon as possible. And I believe that the [French Senate] certainly has already taken an orientation which is not already a final decision. But we have to look forward in which way we can find a reasonable compromise between the different positions of governments with one key objective – this would be to find a solution on the Summit in Brussels in the end of June where we should at least soften the sanctions".
RT: Voices against prolonging anti-Russia sanctions can be heard not only in France, but also in Italy, Hungary and some other countries. Do you think there'll be any reaction from other European countries following the vote? What can we expect now from the final European Commission vote? Is there any way that the disagreements between Europe and Russia could be overcome?
WM: All it takes is one or two countries to stand up and refuse to rubber stamp the decision of the 28. Don't forget, all the 28 countries have to say 'Sanctions!' – and if one country objects they can't do it. That is the way the Council of Ministers works. So it all will be about the horse trading and internal pressures. I think the tide is turning. I still maintain it could be a high-noon in July when they have to meet again to renew. Or they might do a clever compromise: they might say this is the last time we have sanctions… We don't know, but I do see a loosening of some kind of the sanctions.
The statements, views and opinions expressed in this column are solely those of the author and do not necessarily represent those of RT.