'Greece drowning under debt burden'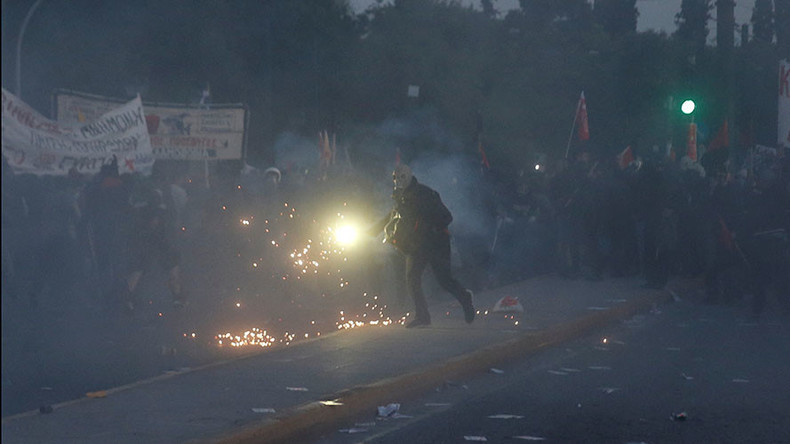 Sooner or later there will be a debt relief in a form of debt forgiveness for Greece because it is in dire financial straits over the debt burden it has accumulated in recent years, says economist and investor Thorsten Polleit.
The Greek parliament approved a new round of highly unpopular austerity measures on May 8 to unlock the next loan installment from international creditors. The measures include a state pension cut and the toughest tax hikes ever enforced since the debt crisis began more than six years ago. The Greek parliament's adoption of the new austerity measures was followed by mass anti-austerity demonstrations in Athens, leading to clashes with police.
READ MORE: Protests erupt in Athens as parliament adopts new austerity measures
RT: EU officials can't even decide among themselves what the best solution is next for Greece over potential debt relief. Do you see that divide turning into a bigger standoff?
Thorsten Polleit: It is a tough choice to make. Greece is in a terrible financial situation. A lot of money has been lent to Greece. The taxpayers in various EU area countries have to shoulder the burden. At the end of the day, I think the IMF is really having a strong say in how things will develop further from here.
Leonidas Chrysanthopoulos, former Greek diplomat, commented on the issue: "What is happening inside the parliament is irrelevant to the Greek people. Because many of the Greek people do not think that the parties actually represent their interests. The other thing is, that the so-called bailout money does not come to Greece – it goes directly to the lenders."
RT: Christine Lagarde is threatening to pull IMF financial help for Greece if the EU fails to agree on how to go forward. Will that be enough to get them to agree? Will she realistically make good on that threat?
TP: I think the IMF plays a very important role in putting together a coherent program to solve the Greece crisis. At central stage is now the idea of providing debt forgiveness for Greece.
RT: Is this weighing on the negotiations to secure the next bailout tranche for Athens so that it can repay part of its IMF debt in July?
TP: It is very important to face reality here. The German government in particular is very unwilling to come to grips with the idea that Greece needs a debt relief. But sooner or later, I think we will have a debt relief at a form of debt forgiveness because Greece is really drowning under the debt burden it has accumulated in the last years. Something has to change.
The statements, views and opinions expressed in this column are solely those of the author and do not necessarily represent those of RT.