Turkish struggle against Islamic State has been 'a ticking time bomb'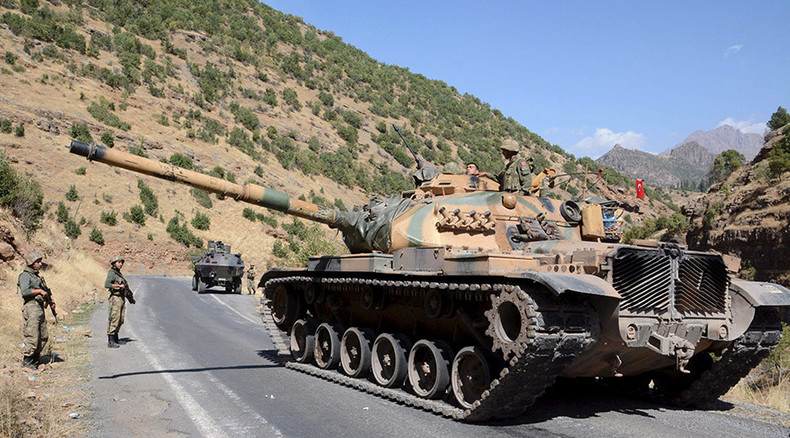 Ankara has become deeply involved in the Islamic State struggle - as well as a fight against the Kurdish PKK - a complicated strategy that seems to have opened the door to terrorism, Bashdar Ismaeel, Middle East expert, and political analyst, told RT.
A peace march on Saturday in the Turkish capital of Ankara was hit by bomb blasts, killing at least 86 people and injuring scores. The terrorist attack comes ahead of national elections scheduled for November 1.
RT: No group has claimed responsibility for Saturday's attacks in the Turkish capital. This latest tragic incident follows another in June at a Kurdish rally. Who could be behind these deadly explosions?
Bashdar Ismaeel: I've felt for a long time that the renewed fighting between the Turkish state and PKK [Kurdistan Workers' Party] have played into the hands of Islamic State. This was a peace rally with hundreds of people in attendance. My first thoughts were: "This is Islamic State." They have a lot to gain by committing such crimes and it's not surprising if it was committed by Islamic State.
There are obviously some nationalist circles as well that have tried to create tension between the government and the PKK, especially ahead of the snap elections that are on November 1st. Either way, this just shows how deeply involved that Turkey is in the Islamic State struggle. For a long time it's been sitting on the fence and I feel they are now feeling the heat and the repercussions for not doing enough over the last four or five years.
RT:There are crucial parliamentary elections coming up in November for the current President Erdogan. Turkey's pro-Kurdish opposition was hopeful of a ceasefire between the government and Kurdish militia. What's the next move for the government following today's events?
BI: I think the government has emphasized the need for solidarity and unity. We mustn't forget that at the moment the predominantly Kurdish Southeast of Turkey is going through upheaval; a lot of memories and images of what I would call the "dark days of the 90s." So if it going to install this unity and solidarity that it is proposing then it obviously has to show that after these attacks; it also has to show it is able to protect the people at the elections.

There was explosion at another rally in June, but there have been similar explosions before. So can it afford the people the protection for the elections on November 1, but also moving forward. Islamic State and Turkey are in a way a state of war with Turkey declaring war on the terrorist organization back in July, but Turkey made the move to simultaneously attack PKK… and I feel that has now undermined the Turkish state. They've now got a direct threat from Islamic State that was largely muted over the last 3-4 years.
RT:The Kurdish fighters are one of the biggest threats to ISIL, do you think Islamic State are involved in some way?
BI: Absolutely… I know the [Turkish-Syrian] border is a very long and porous border, it can't be protected otherwise. Turkey started building walls after the July attack on Suruc, which prompted Turkey to start bombing Islamic State, but, at the same time, the PKK. I think it's been a ticking time bomb.

The Turkish government attempted to deal with the threat of Islamic State, which was seen as a distant war in Syria that it could somehow contain and control. But I think now it's got its hands deep in the Islamic State struggle and it's not only about protecting the borders of Turkey but it's about eradicating an Islamic threat in Syria itself. Turkey is widely implicated in the war in Syria and I don't think it can take a passive approach as it has for the past three or four years.
LISTEN MORE:
The statements, views and opinions expressed in this column are solely those of the author and do not necessarily represent those of RT.