Our Russia project: Set to become powerful instrument for peace in media war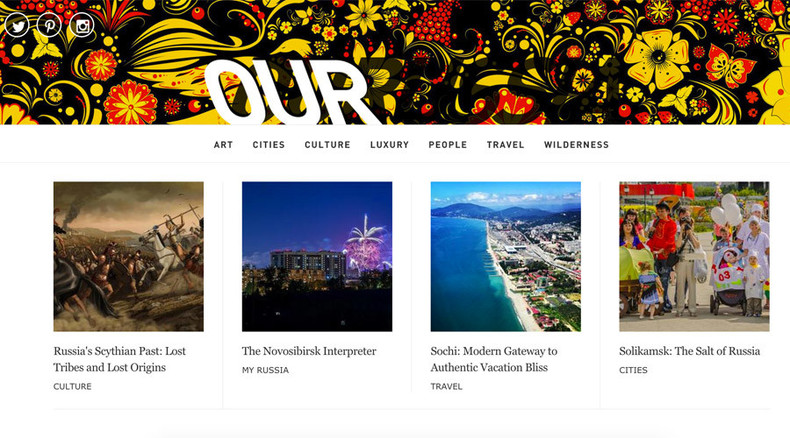 There is a ferocious media war raging today, a battle between Western corporate media concerns, and the various Russian news outlets. For my part, I have been one of only a few moderating Western voices in these skirmishes.
After two years of fighting in the trenches, a new strategy is required, something I, together with some my colleagues, are willing to undertake. This is important because the bloody events we write about are real and the people involved in them shed real blood. So I am announcing a fledgling idea called 'Our Russia', for all intents and purposes, a new front in this war.
Here's a view of this war you may not have considered. I have been a dissenter against the typical American view of Russia for the past two years, and I am reminded now of another war, with its parallels and similarities to this one. A network of World War I trenches appeared crisscrossing the frontiers around Germany and Austria Hungary just over 100 years ago. The battle descended into a vicious stalemate, one much like the attrition of the media war we see today. The truth is stalled, impaled on veritable spears of deceit, anger, mistrust and often-egregious behavior. The situation reminds me of something the brilliant novelist and journalist, Sebastian Faulks, told the Daily Mail when speaking of trench warfare during the Great War: "The world went collectively mad, in a convulsion that revised our idea of what kind of creatures human beings really are."
People get irritated, frustrated, and often downright mean and nasty towards anyone who promotes an opposing view. We are collectively mad, and as totally convulsed in opposition to one another as we could be. This is why I, my Romanian wife and partner, a former RT Producer, and a brilliant Russian programmer decided to launch 'Our Russia'.
The concept of 'Our Russia' is a simple one. While emerging media giants such as RT and Sputnik certainly reach and convert more and more viewers, readers and listeners through advances in programming excellence, convincing Americans who have been brainwashed by the mainstream is nevertheless nigh on impossible. The problem is that news consumers in America seldom seek, see or hear any dissenting views. The average person in the West harbors only a negative view of Russia. Another thing that prevents Russia's side of the story from getting to through to Americans is the internal propaganda that preoccupies perception there. It is also apparent that America has swapped roles with Soviet Russia in some ways. There is no freedom of the press in the US; it has been squashed and canceled by an overarching corporate media machine. I know all this begs the question: "So how will Our Russia change anything?"
While it is relatively straightforward, the reader has to gain an understanding of typical Americans and Canadians in order to grasp it. In describing myself as an American southerner, a rebel if you will, I have described 100 million or more such people in one breath; most Americans want to side with right, with a winner. Unfortunately, the dysfunctional American media circus only creates a false sense of the truth, and turns charlatans into champions. Let me summarize how 'Our Russia' can be a powerful instrument for peace: show the real people in other counties real winners, and real heroes and friends and they will understand and believe.
To better understand my point, take today's media. News now is a minute-to- minute, in-your-face, instantaneous information stream chattering on three billion devices 24/7. Big news outlets must capitalize on this. The media today must serve up what is in demand, and in a media war that demand crystallizes as point-counterpoint. By its very nature 21st century news changes very little, it only maintains a static resonance, a stagnant counterbalancing of information uptake. Without delving into highly technical social media concepts, it's fair to say most news is meaningless today. For change to occur, for ideas to reform, a solution for the mid- and long-term is needed. 'Our Russia' is a tiny seedling now, but is based on a longstanding reality of education and communications. By presenting good stories about Russia, and I don't mean contrived ones either, we will present Russia's backyard to Americans and Brits. They will get to see real people and places and the veil over this mysterious place called Russia will eventually be lifted.
I know some of you are asking: "So how does this good news get through?" On the flanks of the battle there are those who want to understand. There are a great many who have been silent, millions of people who know nothing whatever of Russia. The first phases of our development are web-based. We are simply beginning to tell some stories, using our own resources that are pitted against the billions spent fighting in these trenches. Later on though, we have plans for a printed magazine, for TV segments from Russia, for experiential information that mobile and progressive Westerners can and will consume.
The easiest example of the "how" of our modus operandi I can give is the visual of a stunning magazine on a doctor's waiting room table. Surrounded by the typical mainstream boredom of car traders and Vogue fashion stacked to the rafters, we see a fabulous cover peeking out from under the heap. We see a patron thumbing through 'Our Russia' to discover the unknown, the fascinating, the magnificent people and places we were misled about. The world needs to understand the real Russia.
And that is how you win the war. Once your neighbor knows you, once they see your flowers blooming while theirs wilt under a blistering sun, that's when the person next door begins to ask questions. We cannot change anything in a day, nor in a week, but in a year or two maybe we'll fill these trenches in and get back to the business of making a better world, where divisions between Russia and America fall away and more common ground begins to emerge.
"We have always held to the hope, the belief, the conviction that there is a better life, a better world, beyond the horizon." – Franklin D. Roosevelt
Phil Butler for RT.
Phil Butler is journalist and editor, and a partner at the digital marketing firm, Pamil Visions PR. Phil contributes to the Huffington Post, The Epoch Times, Japan Today, and many others. He's also a policy and public relations analyst for Russia Today, as well as other international media. You can find Phil's blog at http://www.phillip-butler.com.
The statements, views and opinions expressed in this column are solely those of the author and do not necessarily represent those of RT.