​'Israeli aggression pushes Hamas & Fatah to unite'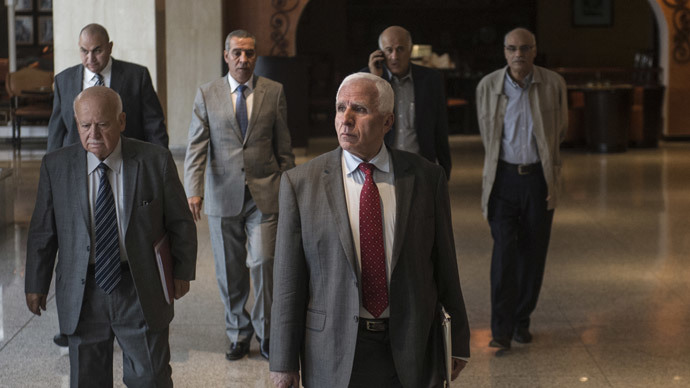 Until the Hamas-Fatah reconciliation, an absence of unity among Palestinians played into Israel's hands. Israel's aggression itself pushed the Palestinians to unite, Dr. Curties Doebbler, international human rights lawyer and peace activist, told RT.
Hamas and Fatah have agreedto form a unity Palestinian government in Gaza. This unity could strengthen Palestinian position in negotiations with Israel that are set for the next month. The two factions agreed to form the national unity government in May, but a dispute over the Palestinian Authority's non-payment of salaries to Gaza's public sector workers brought relations close to breaking point. There are still some divisions between Hamas and Fatah, however, many believe that the two parties will be able to cope with existing difficulties, being united by a strong desire to create an independent Palestine.
READ MORE: Hamas and Fatah agree unity govt control of Gaza
RT:So Hamas and Fatah finally agreed. What changes could this bring to the region?
Curties Doebbler: This is the end, or at least the final step, of the very long road to reconciliation between Fatah and Hamas. From the Palestinian prospective it is a very important step in being able to consolidate now their efforts to achieve the self-determination, which is being withheld from them by the Israelis and the international community to some degree.
RT:This deal follows the latest Palestinian-Israeli war in Gaza. Do you think Israel's actions worked to unify the Palestinians?
CD: The Israeli aggression is a silver lining of the very deadly action by the Israeli authorities was that it made more Palestinians think more seriously about the necessity to unify themselves. One of the very important commitments of Yasser Arafat, former president and leader of the Palestinian people, was the unity of the Palestinian people and to ensure this unity to be able to go forward, to achieve self-determination. I think that the Israeli recent aggression and even the aggression two years ago has firmed up the resolve of the Palestinians to stand together to achieve self-determination.
RT:How will a unity government in Gaza influence relations and negotiations between the Palestinians and Israel?
CD: I think it will be very beneficial to those negotiations. Till now, Israel and some of its allies or supporters have taken advantage of the fact that the Palestinian people are not united and it's a lot easier to negotiate to your advantage against people who are divided themselves. With the united Palestinian people, negotiations should be more even, although Palestine is still fighting in a very uphill battle against not only Israel, but a number of its very wealthy and powerful supporters to try to achieve its self-determination. But it has international law on its side and has the sympathies of - I would suggest now - the overwhelming majority of the people of the international community. This is a very important step in them being able to use those elements to achieve their self-determination.
RT:What political advantages do this offer for the Palestinians?
CD: For people to be able to really negotiate their self-determination, they need to be united as people. I think this is a very strong political uniting force. This is not the end of the road, there are still some divisions certainly but it was a very good step in the right direction for uniting people that have a right to self-determination and in their struggle to achieve that right.
The statements, views and opinions expressed in this column are solely those of the author and do not necessarily represent those of RT.