Nine people killed as Yemeni troops fire on demonstrators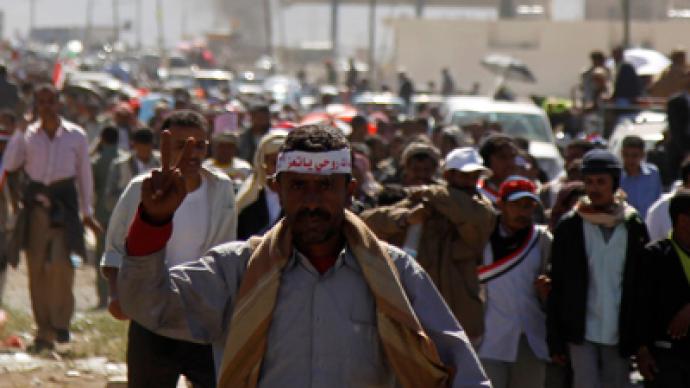 Nine people have been killed and 90 injured after troops opened fire on 100,000 demonstrators protesting against President Ali Abdullah Saleh's immunity from future prosecution in the Yemeni capital, Sanaa.
Demonstrators took to the streets of the capital on Saturday after marching for four-days from the southern Yemeni city of Taiz, which has lately become a stronghold for forces opposed to President Ali Abdullah Saleh. The protesters were demanding that he and his family stand trial for the government's persecutions against the opposition since the unrest in the country began in February.
Immunity from prosecution for President Saleh and his family was one of the main clauses included in a deal brokered by the Gulf Cooperation Council (GCC). The deal also stipulates that Saleh step down and transfer power to his deputy who is to ready the country for presidential elections in February.But many opposition protesters have been demanding for this to be changed as they want the outgoing President and his family members to stand trial. Saturday's protest in Sanaa was dispersed by the Republican Guard force, a force commanded by Saleh's son, and the Central Security force, with Saleh's nephew at the helm.
Earlier on Saturday the troops tried to disperse crowds of demonstrators with tear gas and water cannon but the protesters later converged on Change Square and headed for the President's compound. It was then that the Republican Guard opened fire, resulting in deaths and injuries.
The ongoing violent demonstrators in Sanaa and other major cities of the country have put in doubt whether the deal secured by the GCC could bring long-term peace and stability to the country. The country faces numerous challenges: a separatist south, Islamists controlling the Abyan province and approximately 500,000 internally displaced people.