Media hoaxed: FSB looking into fake press release about Russian Railways boss dismissal
Published time: 19 Jun, 2013 21:27
Edited time: 20 Jun, 2013 05:30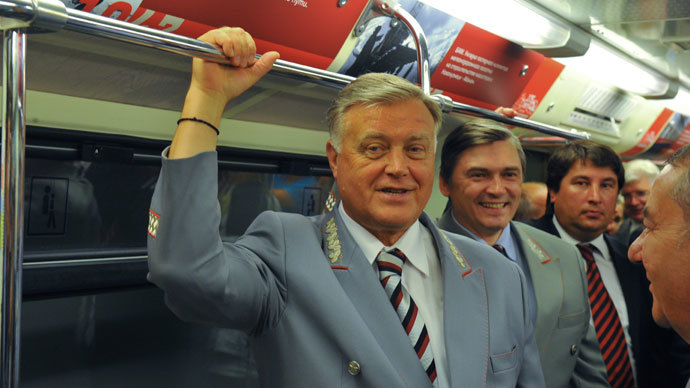 A fake government press release about Prime Minister Dmitry Medvedev "sacking" the head of Russian Railways has caused a stir in the Russian media and among bloggers. The Federal Security Service is already looking for the perpetrator of the prank.
The news of Vladimir Yakunin's "dismissal" broke on Wednesday afternoon when top news agencies – both in Russia and abroad - received a government press release saying that Medvedev had fired the Russian Railways president and appointed his deputy, Aleksandr Misharin to replace him.
However, in less than an hour after the high-profile "sacking" made headlines in the Russian media, the government denounced the reports.

Medvedev's spokeswoman Natalya Timakova said the letter designed to look like an official statement of the government press service was false and suggested that it was someone's "bad joke." 

"The report about Yakunin's resignation contained grammatical mistakes and was sent from an electronic address camouflaged as an official letter from the government press service," she said, as cited by Itar-Tass.
The Federal Guard Service and the Federal Security Service are investigating the incident to determine the origin of the letter, Timakova added. The spoofed email was sent from an IP address which does not belong to the Russian government, but featured every characteristic and mimicked an official document precisely.
President Vladimir Putin's press-secretary, Dmitry Peskov linked the incident to cybercrime, cited Echo Moskvy radio station.

The Kremlin press service urged journalists "to be maximally careful" when using information they receive via the Internet. In a statement posted on the presidential official website they asked the media to contact them on the phone to confirm reports they get emailed from the Kremlin.  

The spokesman for the Russian Railways, Aleksandr Pirkov, agreed that hackers could be behind the canard, which he called "a provocation."

"A big person, as I understand, has big and clever enemies. Some don't like Yakunin's activities," he commented to Komsomolskaya Pravda daily. 
Meanwhile, 'Yakunin' has become one of the top trends on Russian-language version of Twitter. The head of the Russian Railways – a vast empire worth billions dollars – has lately been in the spotlight in the Russian blogosphere in connection with a posh country-house in the Moscow region which allegedly belongs to the state official.