World commemorates Holocaust Day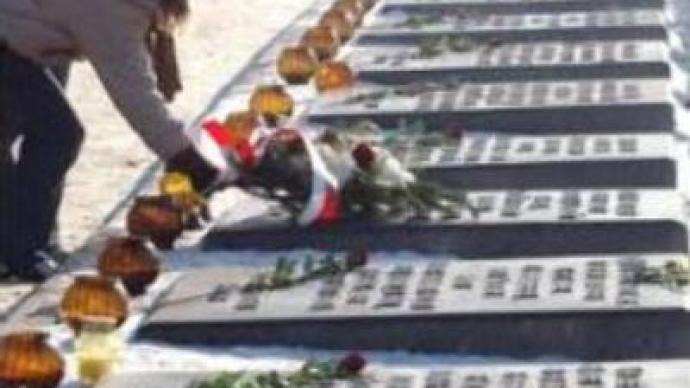 The world is marking the International Day of Commemoration for the victims of Auschwitz. 62 years ago the Soviet Army opened the gates of the most notorious Nazi concentration and extermination camp.
The UN General Assembly has adopted a resolution, condemning denials of the Holocaust. Iran was the only country to reject it.
"What we saw was horrifying – to see the exhausted bodies, eyes full of desperation, the crematoriums, we didn't realise at the time that they where used for burning people alive – I realised only later what they were used for. I can never forget what I saw,"
remembers Ivan Martinushkin, a WWII veteran.In the Soviet Union, the official ideology stated that all soviet nationals, not merely Jews, where victims of the Holocaust.Thousands of ghetto and mass grave sites have been discovered on the territory of the former Soviet Union, and museums are full of evidence that the Holocaust is a historical fact.The UN General Assembly adopted a resolution, co-sponsored by 103 countries, condemning those who deny the Holocaust. Iran has become the only country to reject it.The resolution, co-sponsored by 103 countries, was approved by consensus, without a vote.However, the Iranian president has many times claimed the Nazi holocaust was a myth, saying Israel should be "wiped off the earth". In reaction to today's resolution, Tehran distanced itself from what it calls a "hypocritical political exercise".Meanwhile, Russia's ambassador to the UN has said democracy is incompatible with the glorification of Nazism. Vitaly Churkin was condemning attempts by some countries to remove monuments to those who fought against Nazis: "
It is important to keep in mind that the Holocaust remembrance day, January 27, is also the day when the Red Army of the Soviet Union liberated Auschwitz, one of the major Nazi death-camps. On this day, commemorating the Holocaust and protesting its denial, we believe it is important to understand that Holocaust denial has various forms and dimensions. For us it is particularly unacceptable that these days even in some countries which claim to be democratic there is tendency to whitewash and even glorify those who fought together with the Nazis and at the same time try to erase the memory of those who defeated Nazism,"
he stressed.
You can share this story on social media: