Women in Russia and Germany are encouraged to have more babies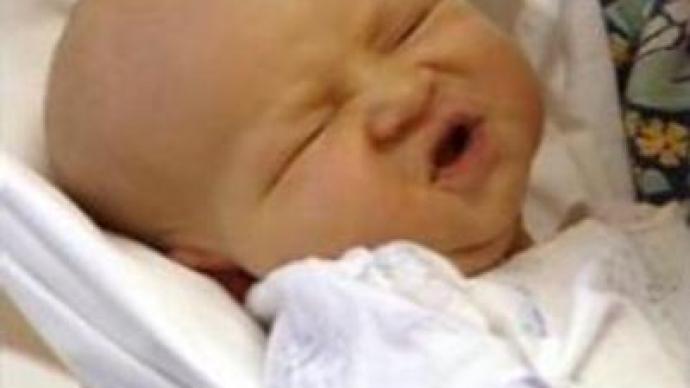 From now on, Russian mothers will be given grants worth more than $US 10,000 for every child after their first. A similar initiative has been introduced in Germany, a country also facing the problem of a shrinking population.
In Russia the initiative is part of a state-run programme aimed at boosting the falling birth rate in the country and increase the population. Now parents of newly-born babies will have fewer financial problems, and can focus on more pleasant points. Viktoria Goreva, mother of a newly-born girl, says:
"The first thing we want to give her is our love, tenderness care and attention."
But her husband Yury appears more pragmatic. According to the new law, their daughter will get 250,000 rubles, as the Gorevs now have more than one child.
"When a child is born, there are certain expenses parents face: raising the child, giving a good education. That's not cheep,"
points out Yury Gorev.
"No matter how much you earn, this money will definitely help. Now we can confess: we really plan to have a third baby, that's five hours after we got the second one!"
New mothers have joked that 250,000 rubles for a second baby sounds like good business. Some of them say, they could do without it, but it would have been much more difficult. The procedure of getting Mother's capital is quite different from a simple bank transaction. After giving birth to a second, third or more babies, the mother is simultaneously granted an account in the Pensions Fund, which will be indexed in accordance with inflation rates. She can get this money for only three purposes, and that when her child turns three.
"This money, or a part of it, could be spent on accommodation,"
explains Mikhail Zurabov, Russia's Health and Social Development Minister.
"It could also be spent on paying back loans taken to buy an apartment or a house. The second purpose is the education of a child. And the third way is to accrue this money to a pension account."
The only problem that has already emerged concerning this law comes into effect as of January 1, 2007. Those who gave birth to their children, say, a minute to midnight, fall out. Some think that's not fair. But for many Russian families this demographic project does mean a lot. Low income and insufficient accommodation used to be the biggest problem for parents when they started planning more children. Meanwhile in Germany the government offers $US 33,000 to encourage working couples to have children, triggering a surge in the number of births early in the New Year.The money is given to those who have babies after the first of January, and the German media have been giving tips on how women could delay birth.Medical experts warn against medical intervention, saying it would have a minimal effect.
You can share this story on social media: