Desperate dive to death penalty: Rescued Chinese woman to face firing squad (PHOTOS)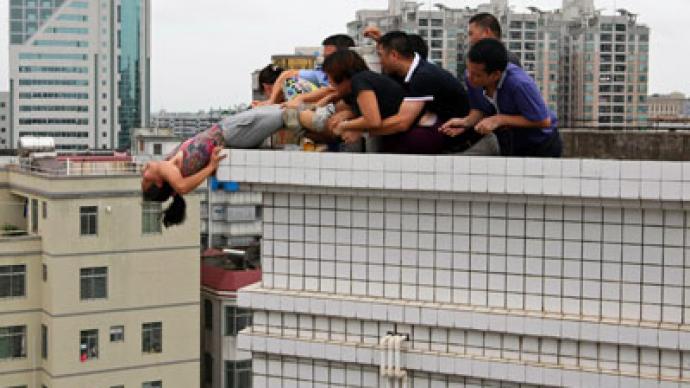 In a dramatic struggle, family, friends, and rescue workers have saved the life of a woman who tried to leap from the roof of a 100-foot building in the Chinese city of Zhanjiang. They were unaware that she had killed her own nephew hours prior.
­The nail-biting situation came just hours after Sheng Fi smothered and threw her own four-year-old nephew from the same nine-story building.It happened after a bitter argument between Fi and her sister – the boy's mother.It was a battle of strength and determination as at least nine rescuers clung to Fi's legs to prevent her from making the fatal leap. ­Fi's own daughter was brought to the roof of the building to talk her down. But as family and friends struggled to save Fi's life, they were unaware that she had killed her nephew just hours before. The devastating truth was revealed after she was brought down from the ledge.
Reuters / CDIC­"She admits she'd thrown the boy's body off the same roof," a police spokesman told local media. "She will still die now, but by a firing squad for murder."China has one of the highest suicide rates in the world, with over 2 million attempts every year. According to Beijing Health Bureau spokesman Mao Yu, suicide is the biggest killer among 15-34 year olds throughout the country.
Reuters / CDIC