Russia's lotus fields burst into bloom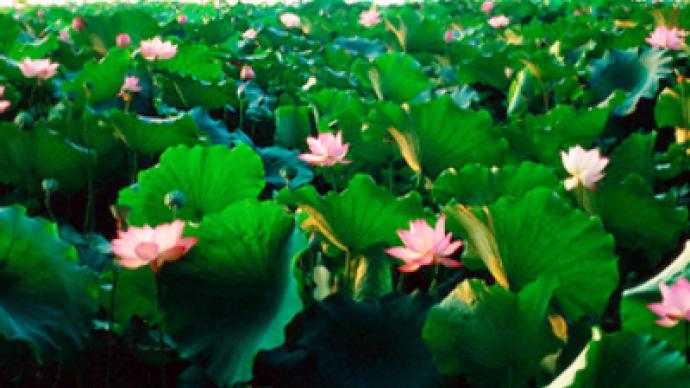 A field of lotus, or Caspian rose, has blossomed in the delta of the Volga River.
The three-kilometer wide, 15-kilometer long field is believed to be the largest on the planet, occupying hundreds of hectares of the lateral channels in the lower course of the great river.
The pink flowers can grow to 65 centimeters in diameter and 2.7 meters in height. Tourists are being taken to the field by all sorts of water transport to witness the rare phenomenon and take photos. They are told not to pick the flowers as, once cut, they will not survive longer then two hours. In their natural environment the lotus blossoms will last till early September.
The view of the sea of blue and green leaves with pink flowers that give off a tender fragrance similar to almonds is truly mind-bending. The flowers open with the dawning light and close at dusk, which for many Eastern people means revival, renewal of stamina, return of youth and even immortality.
The lotus has been known to the Volga delta for at least 200 years and its existence in the region is the subject of a long scientific dispute. Some believe it is a relict plant left over from the tertiary period. Others say lotus seeds were brought by migrant birds.
But the human factor is also possible: the Volga delta borders Russia's Republic of Kalmykia, the only Buddhist territory in Europe, and it is said that Buddhist monks could have brought the lotus seeds and planted them.
The lotus is a part of Russia's Red Book and is protected by law.
You can share this story on social media: