Venezuelan committee dismisses opposition demands for vote audit as 'impossible'
Published time: 28 Apr, 2013 09:02
Edited time: 28 Apr, 2013 09:03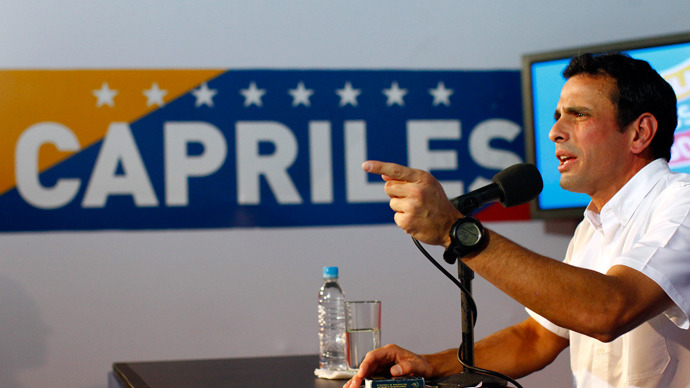 A vote audit under the conditions put forward by Venezuelan opposition leader Henrique Capriles is "impossible," an electoral committee has said. Capriles has given the committee an ultimatum, threatening action over what he called "stolen votes."
The President of the Venezuelan electoral committee Tibisay Lucena dismissed Capriles' demands for an audit as "impractical" and unconstitutional.

"After a long analysis by the National Voting Council, we can say that it is impossible to approve the request with the current conditions," Lucena said on Venezuelan state television, adding that such demands are not provided for in the Venezuela's judicial system. She went on to say that starting on Monday, there will be an audit of 46 percent of the votes that had not been previously checked.

Addressing Capriles' claims of "stolen votes," Lucena stated that the opposition leader had not provided sufficient evidence to back up his allegations.

Capriles said that the Venezuelan presidential elections had been sullied by thousands of irregularities including voting intimidation, and demanded a recount of the ballots. He claimed that by his calculations he had won the election, and slammed the Maduro government for its "desperate lies."

He stressed that if the necessary paperwork from polling stations was not included in the audit, then the opposition would not participate in the "joke" of the electoral process.
On Thursday, Capriles criticized the Commission for not setting a date for the audit, and said that the next step would be to formally challenge the elections. The Venezuelan Electoral Committee stated on April 20 that despite the audit, the results of the presidential elections were irreversible and there would not be a recount.
Late leader Hugo Chavez's successor Nicolas Maduro won the Venezuelan election on April 14 by a narrow margin of 1.8 percent, with 50.66 percent of the vote. Capriles refused to accept the results until there was a full recount and claimed that he had won.
"We won in many of the states of Venezuela and according to these results we won in the main areas of the country, the loser in the government, they are the losers," the ex-presidential candidate said after the results were announced.
Maduro agreed to an audit of the vote but has denied all allegations of foul play. Chavista deputies also founded a commission this week to investigate so-called "fascist aggression" during protests in the run-up to the elections.
Pedro Carreno, one of the members of the new commission, says the opposition had a hand in inciting the violence in which nine people died and over 80 were injured. Furthermore, he accused the opposition of trying to conceal their involvement. The government has arrested two people so far it has accused of inciting violence during the election protests.
Both Maduro and Capriles have called on their followers to rally on May 1, a potentially inflammatory situation that could lead to clashes.