US President George Bush has left Moscow after an informal meeting with Vladimir Putin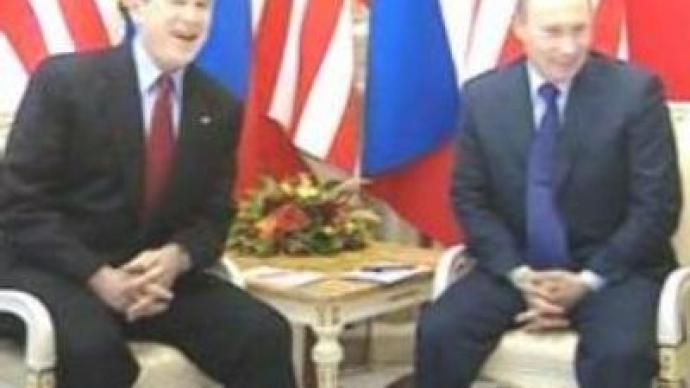 The two leaders had an hour-and-a-half long working lunch to discuss international issues. Now George Bush is on his way to the Asia-Pacific-Economic-Cooperation forum.
In the Vietnamese capital Hanoi another meeting with the Russian president is also scheduled for Mr. Bush. After the meeting the two presidents confirmed bilateral protocol on Russia's accession to the World Trade Organization is being prepared for signing at the APEC summit in Hanoi later this week.
A Kremlin official has told the Itar-Tass news agency that an agreement on Russia's WTO accession is likely to be signed in Hanoi on November 19.
The APEC summit is expected to focus on widening free trade agreements with Asia, and on North Korea's nuclear programme. Viktor Kremenyuk, Deputy Director of the Institute for USA and Canada Studies in Moscow, spoke to Russia Today about George Bush's brief stopover in Moscow on route to the APEC Summit in Vietnam.
"Well, first of all it is a sign of the high level of the personal relationship between the two (Vladimir Putin and George Bush). They like each other, they trust each other, they enjoy the company of each other and they work together. Such an occasion means that they want to meet, that they want to discuss something, and they plan for some deal. From this point of view I think it is a sign of rather high level of co-operation between our nations. We know there is a growing criticism towards Russia in the U.S. and there is also the growing criticism of the U.S. in Russia, but among that there is something like an island of stability and this island of stability is produced by the friendship between the two presidents."
You can share this story on social media: