UN mediates in row between Britain & Iran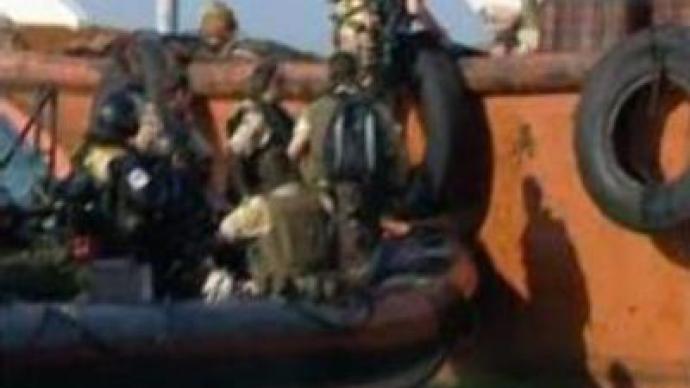 The United Nations has stepped in to the diplomatic row between Britain and Iran. UN chief Ban Ki-Moon has met Iran's foreign minister to discuss his government's detention of 15 British sailors.
Britain has rejected Iran's demand that it admit 15 British soldiers captured last Friday were operating in Iranian waters. For its part, Tehran has said it will not release the soldiers without the admission.The Naval personnel were seized whilst carrying out cargo checks in the Persian Gulf. Among those captured is a female sailor, Faye Turney.Earlier reports claimed the Iranians would release her, but Tehran has backed away from that, saying it will only allow British officials to visit the detainees. There is also concern in Britain over the parading of the captives on Iranian television. The British government has been quick to condemn the footage of the captured service personal.
"I do not intend to dwell on the nature of the footage or indeed the nature of the way in which it was put into the public domain, other than to say it is completely unacceptable to parade people in this way,"
said British Defence Secretary Des Browne stressed. The Iranians claim that the sailors were in Iranian waters has met short shrift in London. The Ministry of Defence made the unusual stepof making public the co-ordinates of the British position and of the Iraqi ship they were searching before they were seized. He went on to explain that Iran has released two sets of alternative co-ordinates, the first of which put the UK sailors in Iraqi waters. This was later revised and a position in Iranian waters was given. British Prime Minister, Tony Blair, said the UK should ratchet up pressure on Iran – while Foreign Secretary Margaret Beckett announced a freezing of bilateral business with Tehran. The government has also called a meeting of the Cobra group, which normally only meets when UK security is seriously under threat, such as during the London bombings in July 2006. Iran has said it is not daunted at the tough talk from the British and pointed out that relations between the two countries have long been stagnant. Tehran also said that they did not need any intermediaries in resolving the issue with the UK.
You can share this story on social media: