Ultra-left activists storm Russia's foreign ministry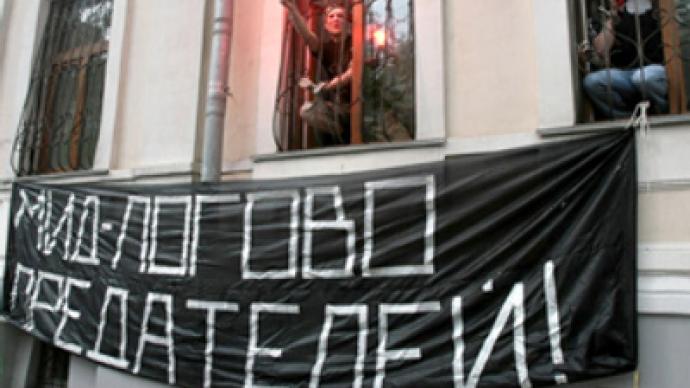 A dozen Bolshevik activists have been detained in Moscow after storming the reception of Russia's main foreign ministry building. The members of the banned National Bolshevik movement handcuffed themselves to pipes and h
"Police detained three Muscovites and nine Moscow Region residents in the Russian Foreign Ministry lobby in Denezhny side-street. They were brought to the Khamovniki police station," the source in Moscow's police said, adding that they were likely to be given fines.

The ultra-left activists timed the act to coincide with the criminal sentencing of one of the National Bolshevik movement leaders, Vladimir Abel, in a Latvian court. Abel was arrested in Moscow in February, 2008, and extradited to Latvia, where he had been accused of plotting an assassination attempt on the country's president at the time Vaira Vike-Freiberga.
National Bolsheviks themselves claim it was the Russian foreign ministry inaction in protecting the Russian-speaking minority rights in the Baltic states that made them go the length of such a move.
A week ago the Latvian Ambassador to Russia, Andris Teikmanis, was attacked by members of the same movement during a media briefing in Moscow. The assailants, a man and a woman, threw a substance which they claim was blood at him. During the incident they chanted "Free Vadimir Abel".
You can share this story on social media: