Turkish police detain 'mentally unstable man' with fake bomb near PM's office
Published time: 21 Nov, 2013 10:54
Edited time: 21 Nov, 2013 16:08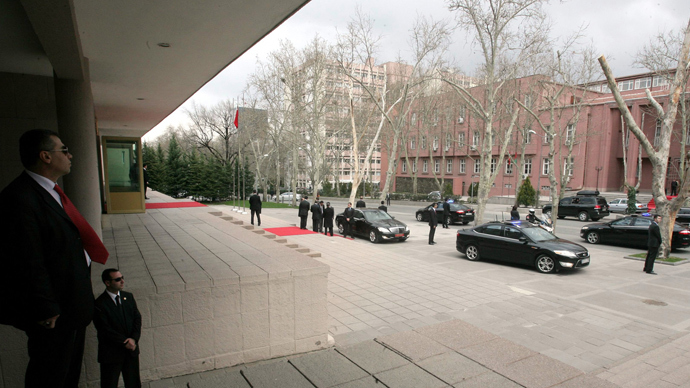 Turkish police detained a "mentally unstable" man who was carrying a fake bomb outside Prime Minister Recep Tayyip Erdogan's offices in Ankara. The alleged bomber was taken into custody, with earlier reports incorrectly saying he was shot by police.
"This individual was carrying a device resembling a bomb but in fact it was not one," Interior Minister Muammer Guler told reporters. The minister described the suspect,  identified as 52-year-old Tugrul Bayir, as "mentally unstable", AFP reports.

NTV television reported that Bayir had called the police saying he was a suicide bomber and was planning to go to Erdogan's office. He later showed up on at the property and attempted to breach a security cordon near the prime minister's office in the capital.

Police reportedly fired nearly up to six warning shots into the air after Bayir refused to show his ID card and then failed to comply with an order to stop, according to the newspaper Today's Zaman. A witness said he was wearing a corset around his waist carrying some type of cement with cables attached to it as well as a black box. Government security guards reportedly pounced on the suspect when he attempted to detonate what they believed at the time was a bomb. The suspect was then taken to Cankaya Police Department to undergo investigation.

The state-run Anadolu Agency earlier reported that Bayir was hospitalized after being shot in the foot, Hurriyet daily reports. Eyewitnesses also told the Cihan news agency that the man was shot by guards.

Initial reports said the man had been shot dead at the scene of the incident.

The incident comes as Prime Minister Erdogan is set to arrive in the Russian city of Saint Petersburg on Thursday to attend a High-Level Cooperation Council with Russian President Vladimir Putin, with the ongoing crisis in Syria likely to top the agenda.

Erdogan, who will be accompanied by a ministerial delegation, are also set to discuss Turkey's first planned Mersin-Akkuyu nuclear power plant to be built by the Russian state corporation Rosatom. The project is estimated at $20 billion.

Russia is one of Turkey's primary trading partners, with the trade volume between the states standing at $34 billion. The countries hope to treble that figure in under a decade.

The opening of a Russian-Turkish Culture Center in Turkey asd well as the restoration of Turkish war cemeteries in Russia are also on the agenda.

Erdogan was reportedly not in his office at the time of the incident, and is set to depart for Russia later on Thursday.