Rise to the top(less): Mexican politician stakes campaign on naked billboards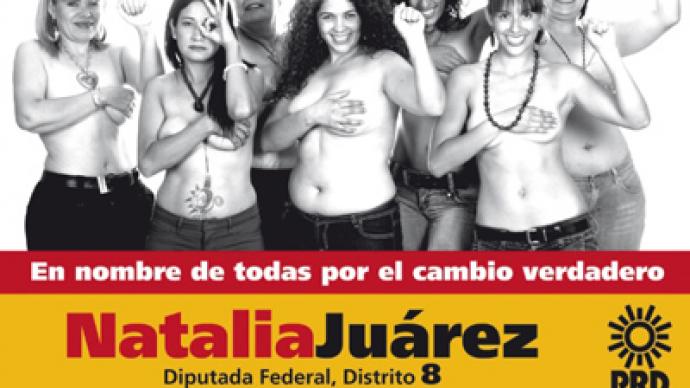 When 34-year-old Mexican congressional candidate Natalia Juarez saw her progressive campaign floundering in the conservative city of Guadalajara, she decided not to pander to her voters. Instead she is challenging them - with nudity.
A Professor of Philosophy at the local university, Juarez is a political novice with a radical agenda. Among her proposal is the legalization of drugs – in the midst of a war between police and the powerful drug cartels that has killed tens of thousands."We need to tell people, 'Hey, wake up because if you don't, sharks are going to eat you up.' Wake up, you citizen and politician," Juarez told CNN.The candidate decided that her radical message needed to be spelt out in stark terms – two huge nude billboards in the district where she is running.The slogan: "I dare you to build a new project for a nation with no prejudices."The actual photograph in the center of the storm is unlikely to cause Hugh Hefner to lose any sleep. Juarez and a posse of her supporters look a little sheepish, as they strategically cover their assets with one arm, while performing an awkward clenched fist salute with the other.The posters have made her an immediate star of the campaign, but opinion is divided over whether she is a canny propagandist, a brazen attention seeker, or both. The traditionalist moralists have reacted with predictable outrage.But Juarez isn't worried about the backlash."Conservative people are never going to vote for me, never!" Juarez said. "Even if I dressed as a nun and carried a rosary and said that my party was going to give away Bibles and rosaries, they wouldn't."Juarez says that her entire family, including her "old-fashioned" mother, has stood by her during the crisis. She does, however, admit that some of her students have given her "looks." It is not obvious if the campaign has emphasized Juarez' point or overshadowed, but just to make sure the message hits home, Juarez is releasing a new poster of naked women, their private parts covered by a narrow ribbon in the colors of her party.Whether the media attention will translate into votes will only become clear during the election itself, scheduled for July 1.