Tiger cub saved from poachers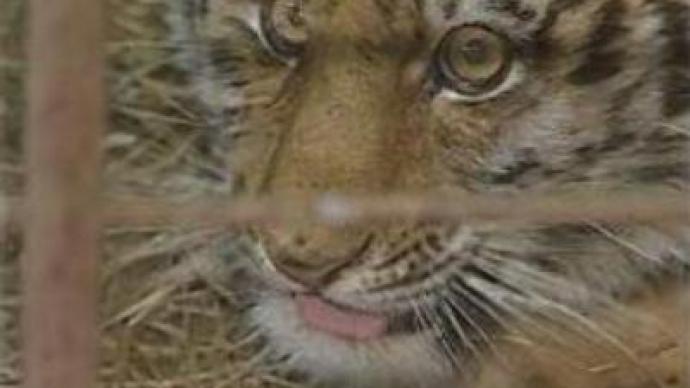 Local residents in Russia's Far East Primorsky region have saved a baby tiger. The cub spent more than two weeks caught in a poachers' trap before being rescued.
When the veterinarians came, the animal was nearly dead and they had to operate immediately. Locals believe her mother must have been shot by poachers, as normally, she would be looking after her offspring for another two years.
'In nature, a tigress would still feed it and give it semi-digested food. We have to compensate it wth vitamins, fresh meat, liver,'
Vladimir Nemechkin, a veterinarian, explains. Now the cub is doing well; though, she shows she's not a pet and doesn't want any human contact. Vets say it will take a month for the baby tiger to get used to people and take food out of their hands. Workers of the local "Tiger" inspectorate are using their own money to take care of the cub as the organisation is severely underfinanced. Those who rescue endangered animals find themselves out of pocket as few will donate money for their upkeep.
'We are enthusiasts. You always have to scratch your family budget for food. Or wait till reporters bring something,'
Oleg Grinenko, Tiger Inspectorate officer, said. He also added that employees of the inspection group sometimes don't even have enough money to put fuel in the vehicles to do their job. So, this tiger really got lucky. However, she may never be able to return to the wild.
You can share this story on social media: