Talks to unblock South Ossetia road at dead end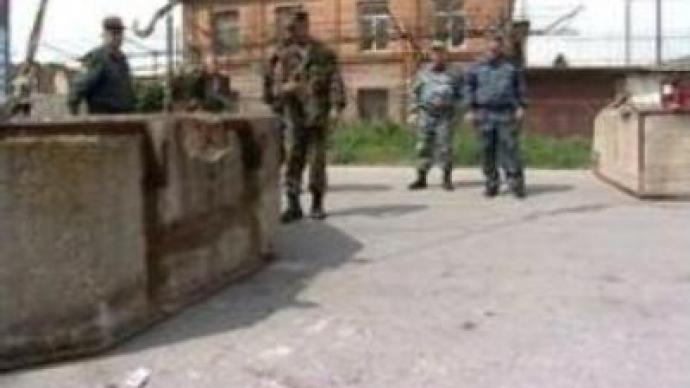 Talks aimed at ending a dispute that is blocking a major road in Georgia's breakaway republic of South Ossetia have ended without success. On Friday the Ossetian authorities blocked several parts of the main road through the region.
The South Ossetian authorities carried out their threat to block the roads to Didi and Patar Liakhvi Gorge by using a large yellow crane to lift two concrete blocks and place them across the road. They say it is the only way to get the Georgian Authorities to take notice.
"I would not say it was I who did it first. It was Georgia at first, who without any permission started this checkpoint and started abusing people. People are suffering because of their actions,"
Mikhail Mindzaev, de-facto Interior Minister of South Ossetia breakaway Republic, said.From now on this checkpoint will be a serious obstacle to a resolution between Georgia and South Ossetia.The unrecognised republic of South Ossetia has been striving for independence from Georgia since the early 1990s, following a bloody conflict in the region. Its territory is monitored by Russian, Ossetian and Georgian peacekeepers, but tension between the two sides is still high.The Alternative Government which was elected in November 2006 has started constructive dialogue with the Georgian Government which has led the de-facto South Ossetian Government to condemn it and its actions.The Interior Minister of the Alternative Government who used to be the Interior Minister of the de-facto Government says it has happened before.
"They have always blocked the road anyway. They have failed joint control commission meetings and even interfere in the peaceful protest. The Ossetian people are like hostages of Kokoyty's government,"
Zhemal Karkusov, Interior Minister of Georgia-backed Government for S. Ossetia, commented.The President of South Ossetia, Edouard Kokoyty, says the blockade is a response to additional border posts set up by Georgia. He describes this move as illegal, aimed at creating obstacles for South Ossetians travelling through the area.On Georgia's initiative, consultations are taking place to discuss both sides of the agreement.The Georgian State Minister for Conflict Resolution has travelled to the region to hold talks with the Russian Peacekeeping Forces and with the de-facto officials.The speaker of Georgia's Parliament has described the blockade by South Ossetia as unacceptable.
"Kokoyty and those who advise him must realise without any hysteria, that we do not want any provocation or confrontation. But since their actions are completely unacceptable then we must react too,"
Nino Burjanadze, Speaker of the Georgian Parliament, stated.Meanwhile it is local people who will suffer the most."I have been standing here all night and they would not let me cross. What else can I do?" a passing-by woman complained.The checkpoint which is located next to the Russian Peacekeeping Forces will remain until a conclusion is reached between the two sides.
You can share this story on social media: