Stoner wins at home, Rossi strengthens overall lead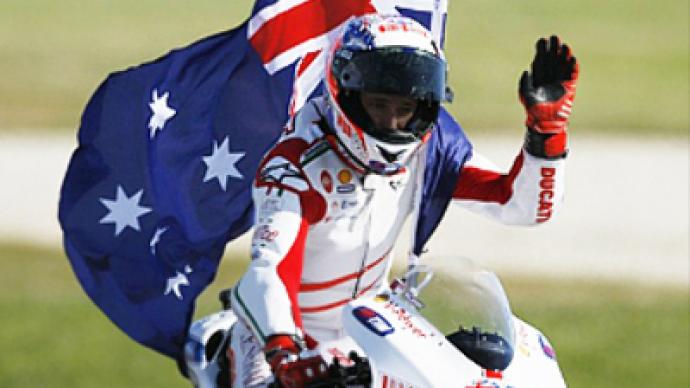 Australia's Casey Stoner has claimed his third home MotoGP win in a row, leaving championship leader Valentino Rossi trailing behind. However, after the race, the latter was more than satisfied with his performance.
Stoner put himself on course for his third Australian MotoGP win by taking pole position at Phillip Island on Saturday. After taking second place in Portugal following an illness which kept him out for several weeks, Stoner got the better of a battle with Valentino Rossi for pole. Rossi's nearest championship rival Jorge Lorenzo qualified fourth behind Daniel Pedrosa, who survived a crash earlier in the session.
The 24-year-old Australian led from start to finish, grabbing the win by 1.9 seconds from Rossi, but Sunday's race has changed little in the overall rankings. Rossi's second placing allowed him to stretch his lead in the world championship to 38 points over Fiat Yamaha teammate Jorge Lorenzo of Spain, who crashed out of the race at turn one – the biggest disappointment of the day.
The Italian said he drove a careful race after Lorenzo's crash to ensure his team earned vital championship points.
"If I made a mistake today after the crash of my teammate it would be a big problem," Rossi said. "I tried anyway to win for sure and it was a great race, one of the funniest and most important second places of my career."