St George ribbons to honour WW2 warriors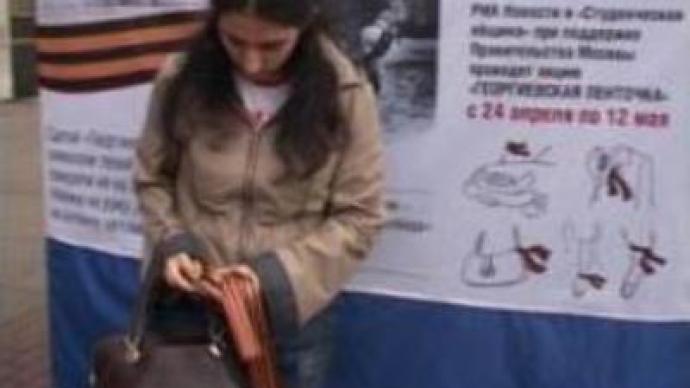 Orange-and-black Saint George ribbons are worn around the world these days, from Moscow to New York. They symbolise the great victory over Nazi Germany in 1945, as well as reconciliation and unification.
These days the ribbons can be seen on clothes, in the hair, on door handles and national flags. In China, veterans of WW2 meet annually to remember those dead in the war against fascism. Some of them even fought in the Soviet army, defending the USSR, which became their second Motherland. In the 1920s their parents were leaders of the Chinese revolution and sent their offsprings to the USSR, to an orphanage which they considered a safer place for their kids. When the war erupted, the youths enrolled in the Soviet army.
"It was awfully cold. My legs were like carrots – red and swollen. But even so we were happy to have a chance to shoot fascist invaders,"
recalls Li Tete, who was one of the defenders of Moscow. The ribbon is also a familiar sight in the streets of New York in early May. War veterans from the former USSR are wearing their parade uniforms, sporting all their medals.
"My greetings to all war veterans, no matter where they are and no matter to which nationality or race they belong. We ought to remember all we had to go through as well as tell our children about it,"
says WW2 veteran Vladimir Edelman, now living in New York. In Russia's Rostov-on-Don, Saint George ribbons are the usual supplement to a railway ticket. And in the city of Murmansk the ribbons have been tied to bicycles and prams.
"My granddad has got an order on a ribbon which looks like the one I have just got. Now I feel it unites me with my grandfather,"
explains a schoolboy in the street.Indeed, the small pieces of orange-and-black tissue are great symbols of respect and commemoration. "I remember and I am proud" – that is what the many millions who wear the Saint George ribbon are saying as they show their gratitude to the living heroes and to those who gave their lives for peace.
You can share this story on social media: