Spring brings new fires to Russia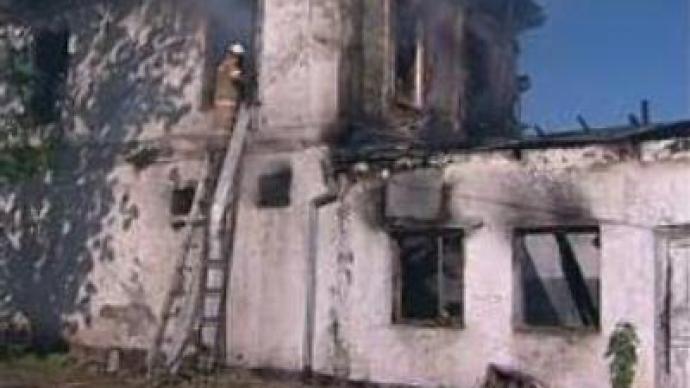 At least three people died and 13 are in hospital after a blaze at a psychiatric unit in the Rostov region in southern Russia. In the meantime, forest fires are raging in the Far East.
The fire in the two-storey building broke out at 05:00 local time and was put out over two hours later. Preliminary reports indicate the accident was caused by a heating device. Around 50 people including the hospital staff were in the building when the fire started. The fire at the psychiatric hospital is the latest in a string of fires in medical institutions in Russia over the past few months. In March, a fire in a nursing home killed 63 people in Krasnodar Region in Southern Russia. Also, a fire in a Moscow addiction clinic killed 46 in December. Another 10 died in a psychiatric clinic in Southwestern Siberia.All of the cases were caused by inadequate fire safety and prevention measures. After last month's tragedy, Russia's State Fire Service started a total inspection of medical institutions. Meanwhile, in Russia's Far East spring has brought forest fires to huge areas of woodland. 10,000 hectares were ablaze in one night alone. Six people have died and 200 more left homeless as the flames have spread across the region.According to experts, an early and dry spring is behind the fast-spreading forest fires engulfing the region. Winter snow melted earlier than usual and temperatures shot up.Currently, hundreds of forest fires are raging across Russia's Siberia and Far East covering more than 21,000 hectares, with more than a dozen registered as major.Strong winds have helped spread the fires, hampering the emergency services efforts.
"Dry weather and strong winds up to 30 metres per second are behind the fires. People also contribute to fires. Despite our warnings they burn rubbish. But under such circumstances a single spark is enough to set the forest ablaze. So, people are a key reason behind the fires,"
commented Vladimir Berdnikov, spokesman for Emergencies Ministry in Siberia.At an extraordinary session, the Russian Emergencies Minister Sergey Shoigu urged local authorities to focus on protecting communities, military facilities and power lines.Local authorities have restricted access to the forests in the affected regions. More than 2,000 firemen are currently involved in fighting the blazes.Meanwhile, 11 BLN roubles of the federal budget has been allocated to prevent and fight forest fires as well as to protect Russia's forests in 2007.
You can share this story on social media: