Soyuz spacecraft reaches orbit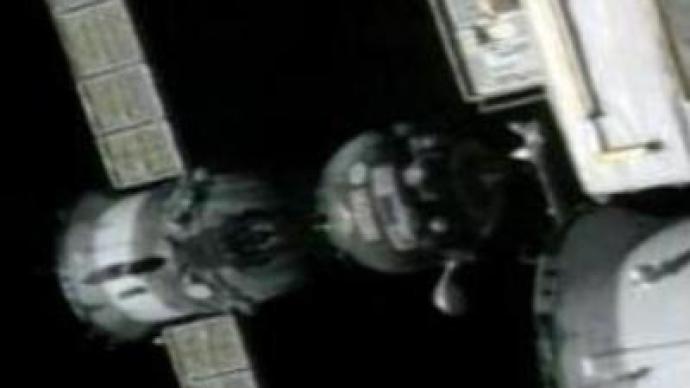 The Soyuz spacecraft successfully blasted off from the Baikonur Cosmodrome in Kazakhstan, carrying aboard Russian astronauts and American space tourist Charles Simonyi. Now the spacecraft has reached its operational orbit.
The crew is travelling to the International Space Station on the legendary Soyuz rocket, extending this model's run to 448 flights.No interviews and no contact with other people for the last 24 hours on earth before the launch is allowed as even a minor influenza can be fatal in orbit. Martha Stewart – a famous American TV star – also came to Baikonur to see Charles Simoni off. Amid speculation about her romantic relationship with the new space tourist, she describes herself as a friend. The celebrity was a special guest at the cosmodrome. She rode a camel and enjoyed a children's concert, organized especially for her.
"The Soyuz spacecraft is a very reliable machine. The Soyuz launch vehicle enjoys almost 98% of success rate. It has been designed in a way that almost all procedures related to its control are performed by the Soyuz commander and the flight engineer. So the space tourist has virtually nothing to do on board the spacecraft but enjoy weightlessness,"
says Yury Karash, an independent space analyst.During their mission the crew will carry out a number of scientific tests.Russia's first deputy Prime Minister Sergey Ivanov has visited the space crew before they blast-off into orbit, wishing them good luck and a safe return. In exchange, crew commander Oleg Kotov asked Mr Ivanov to give a Russian flag that he once took with him into space to President Putin. Mr Ivanov was also presented with a photograph of the 15th ISS crew.The fifth space tourist Charles Simonyi has spent six months getting ready for the launch – studying everything a cosmonaut needs to know, from emergency landing procedures to the Russian language.Mr Simonyi will spend over a week on the ISS together with Russian astronauts Fyodor Yurchikhin and Oleg Kotov. He will take part in several experiments carried out by the crew. He will be testing an impact of space radiation on human body. Also, the space tourist will be writing an Internet blog.It should be noted, though, Charles Simonyi is no stranger to technology – it was a team led by him that developed some of the world's most popular software – including Microsoft Word and Excel. He is also no stranger to Russia, though times have changed since he last visited the country, in soviet times.
"It was a magic time. We were driven through Moscow in a bus that was made to look like a rocket. These were the days when space was at the foremost of everybody's mind. But I have to say I was really disappointed by the Soviet secrecy. There was so little information we could learn even about how rockets looked. Now of course, everything has changed so much. Now I am really getting satisfaction after so many years,"
admits Mr Simonyi.Russia Today's science expert Paul Tadich explains the mission of the fifteenth expedition to the International Space Station and the role the new space tourist will play in the crew's scientific work.
"Their goal in this mission is to resupply the personnel and experiments that are happening right now with new consumables. Once that is done, Charles Simonyi will participate in some of the scientific experiments, though mostly he will be staying out of the way. The main purpose of that is a scientific one – they will study everything from physics, from how to improve combustion, to biological experiments including finding new structures for new proteins which help in the fight against various illnesses. So I am not exactly sure what scientific experiments Charles Simonyi will be participating in, but he has got scientific-technical background himself. And I am sure he will be able to do whatever he can and make the rest of the cosmonauts and researchers more at ease in work which they are going to do up there,"
suggests Paul Tadich.
You can share this story on social media: